home > pharmakologie > geschichte.html Share page: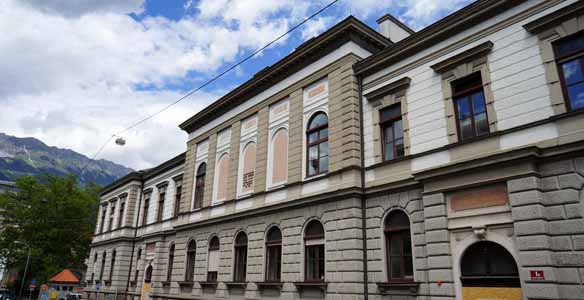 Department of Pharmacology - History
 

The history of the Department of Pharmacology mirrors the emancipation of pharmacology as a separate subject. When the medical faculty was re-established in Innsbruck in the year 1869 a chair of general pathology and pharmacology was created and given to Anton Tschurtschenthaler.

 

In 1886 the chair was renamed Pharmacology and Pharmacognosy and Josef Moeller was appointed as chairman. In 1982 a Department of Pharmacology was established in the building of the Department of Anatomy.

 

In 1893 Joseph Nevinny succeeded Josef Moeller as professor. Under his direction the Department of Pharmacology moved to a new building in
Peter-Mayr-Straße 1, the current location.

 

From 1924 on Adolf Jarisch was the next chairman. He was born in Innsbruck and received his scientific training in Pharmacology in Graz (Director: Nobel laureat Otto Loewi). Jarisch introduced experimental pharmacology in Innsbruck. In 1926 a separate chair of pharmacognosy was created. Adolf Jarisch was a scientist with an excellent international reputation. A cardiogenic reflex, i.e. the Bezold-Jarisch effect, still carries his name.

In 1958 Heribert Konzett became professor of pharmacology. He was born in Vorarlberg and received his scientific education in Vienna and England. In Vienna Heribert Konzett observed the effect of isoprenalin on bronchial muscle. This finding led to the introduction of ß-mimetics as new therapeutic concept in asthma therapy. Heribert Konzett retired in 1980 and died in 2004 in Innsbruck.

Hans Winkler became professor of biochemical pharmacology in 1975. He had spent several years in Oxford in Herman Blaschko's research group. In 1980 Hans Winkler became professor of pharmacology and succeeded Heribert Konzett as the head of the department.

In the years 1984 to 1990 the department building was extensively renovated. Thus in 1992 the "new" building provided an optimal setting both in functionally and aesthetically, for the centennary of the foundation of the department. Hans Winkler retired 2007.

 

In 1982 a division of Neuropharmacology was established at the Department which was led by Günther Sperk. In 1991 he became Professor of Biochemical Pharmacology and in
2007 he succeeded Hans Winkler as head of the Department of Pharmacology. From 2008-2013 Günther Sperk was elected as Vicerector for Science of the Medicial University Innsbruck.
He retired in 2011.  

 

 

Francesco Ferraguti moved 2004 from the Department of Pharmacology in Oxford to Innsbruck to become here Professor of Neuropharmacology.
In 2011 Francesco Ferraguti succeeded Günther Sperk as Director of the Department of Pharmacology.

 
Source: The Faculty of Medicine of Leopold Franzens-University Innsbruck, Veröffentlichungen der Universität Innsbruck, Vol. 191, 1993, ISBN 3-901249-11-7.
Institut für Pharmakologie