home>dpmp>physiologie>research>obermair>projects.html Seite teilen:



Neurophysiology of calcium channels 
Ongoing projects
Synapses and disease in calcium channel alpha2delta subunit mouse models.
Funded by the Austrian Science Fund (FWF), Grant number P24079 (starting 2012).
The brain is the regulatory 'central station' of all mammalian organisms. Important brain functions such as cell-to-cell communication, information processing, the formation and retrieval of memory as well as gene expression are regulated by distinct types of voltage-gated calcium channels and their auxiliary subunits. In order to mediate these functions calcium channels control the entry of calcium into neurons in a highly regulated manner. α2δ subunits have been traditionally envisioned as important factors for the localization, trafficking and stabilization of these channels in nerve cells. They also serve as drug targets for the anti-epileptic and anti-allodynic drugs gabapentin and pregabalin. In the ongoing project we developed novel techniques in order to study the specific roles of the individual subunits in single nerve cells as well as in the brain.
This involves analyzing
the expression patterns and synaptic distribution of different α2δ subunits in cultured neurons using high resolution fluorescent microscopy (epifluorescence, gSTED, STORM),
the potential redundancy and/or specificity of different α2δ isoforms in respect to calcium channel functions,
whether and how α2δ subunits are necessary for establishing and maintaining synaptic connections between neurons.


 CaV1.3 signaling complexes and epigenetic mechanisms induced by Ca2+ channel to nucleus signaling
(B. Flucher and G. Obermair). Special Research Area (SFB) F44: Cell Signaling in Chronic CNS Disorders (Speaker: Dr Jörg Striessnig; website). Funded by the Austrian Science Fund (FWF), Grant number F44 (starting 2011).
In cultured CNS neurons we study the specific functions of distinct L-type calcium channel splice variants to better understand their potential role in the etiology of Parkinson's disease. These splice variants differ with respect to activation and inactivation properties and may thus differentially contribute to neuronal injury in Parkinson's disease. Using established mRNA expression profiling we are characterizing the exact isoform composition of such channel complexes in relevant neurons. To study their specific functions we generated tagged channels to analyze the differential targeting properties of these splice variants in hippocampal neurons and the roles of their interaction with known scaffold proteins for dendritic stability and remodeling. Because our recent findings indicated that the calcium channel β4 subunit is targeted into the nucleus of quiescent neurons, we are investigating the role of β4 in gene regulation. We recently identified, that nuclear β4 proteins can regulate the expression of genes involved in neuronal activity and communication, thereby providing a novel feedback mechanism between synaptic calcium channels and the nucleus.
Past research projects
Axonal and dendritic transport of Ca2+ channels. Funded by the Tyrolean Science Fund (TWF) (2007-2010).
 Role of the Ca2+ channel α2δ-1 in hippocampal neurons. Funded by the Austrian Science Fund (FWF), Grant number P17807 (2005-2009).
Gerald Obermair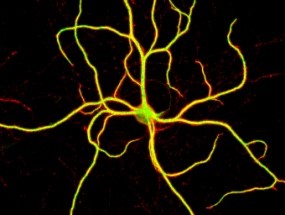 Gerald Obermair,
Division of Physiology
Dept. Physiology and Medical Physics
Medical University of Innsbruck
Schöpfstrasse 41
6020 Innsbruck, Austria.
Phone: +43 512 9003 70841
Gerald.Obermair@i-med.ac.at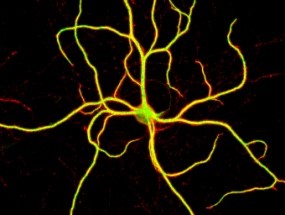 Gerald Obermair,
Division of Physiology
Dept. Physiology and Medical Physics
Medical University of Innsbruck
Schöpfstrasse 41
6020 Innsbruck, Austria.
Phone: +43 512 9003 70841
Gerald.Obermair@i-med.ac.at