Renal Epithelial Cell Physiology - Working Group of Judith Lechner 
Current Research Focus
Sex differences in renal tubular cell physiology
Studies in human patients and animals have revealed that females are less prone to develop acute and chronic renal diseases than males. Our aim is to identify gender specific differences in renal tubular cell physiology potentially linked to these differences. For this aim we study renal marker protein excretion in urinary samples of women and men. In addition to the in vivo studies we aim to analyze the effects of sex hormones on renal physiology using proximal tubular cell models in vitro.
Evidences for a transiently increased tubular repair capacity in women of reproductive age were obtained. Such a mechanism might provide an efficient means to cyclically renew proximal tubular tissue by replacing damaged cells, thus potentially providing higher resistance to renal damage to young women as compared to men.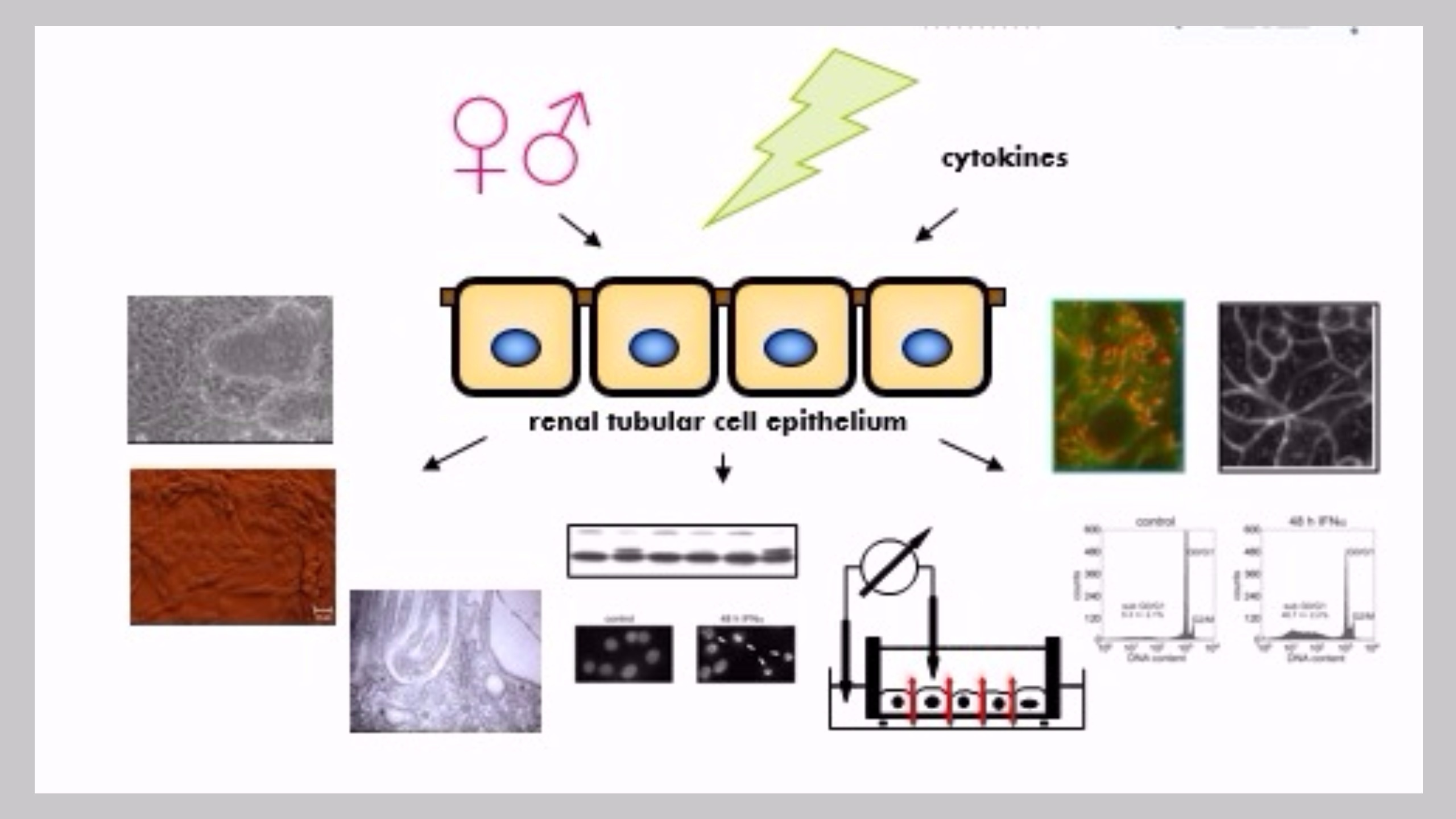 Funding

Cancer treatment - induced renal proximal tubular dysfunction       
Radiation therapy is a widely applied modality for treating cancers and/or preventing cancer recurrence. Although it is the primary goal to push the dose of radiation to the highest tolerable level to cure as many patients as possible, at the same time utmost effort must be made to reduce the risk of causing functional damage to normal tissue. Especially the kidney is one of the most radiosensitive organs at risk. It is our aim to study the effects of therapeutic radiation on renal proximal tubular epithelium in vivo by analysing patients' urinary samples for renal marker protein excretion and in vitro via proximal tubular cell cultures. 
In Collaboration with

Univ.-Clinics of Radiation Oncology, Innsbruck, A

Ass.Prof. Dr. Thomas Seppi

A. Univ. Prof. Dr. Meinhard Nevinny-Stickel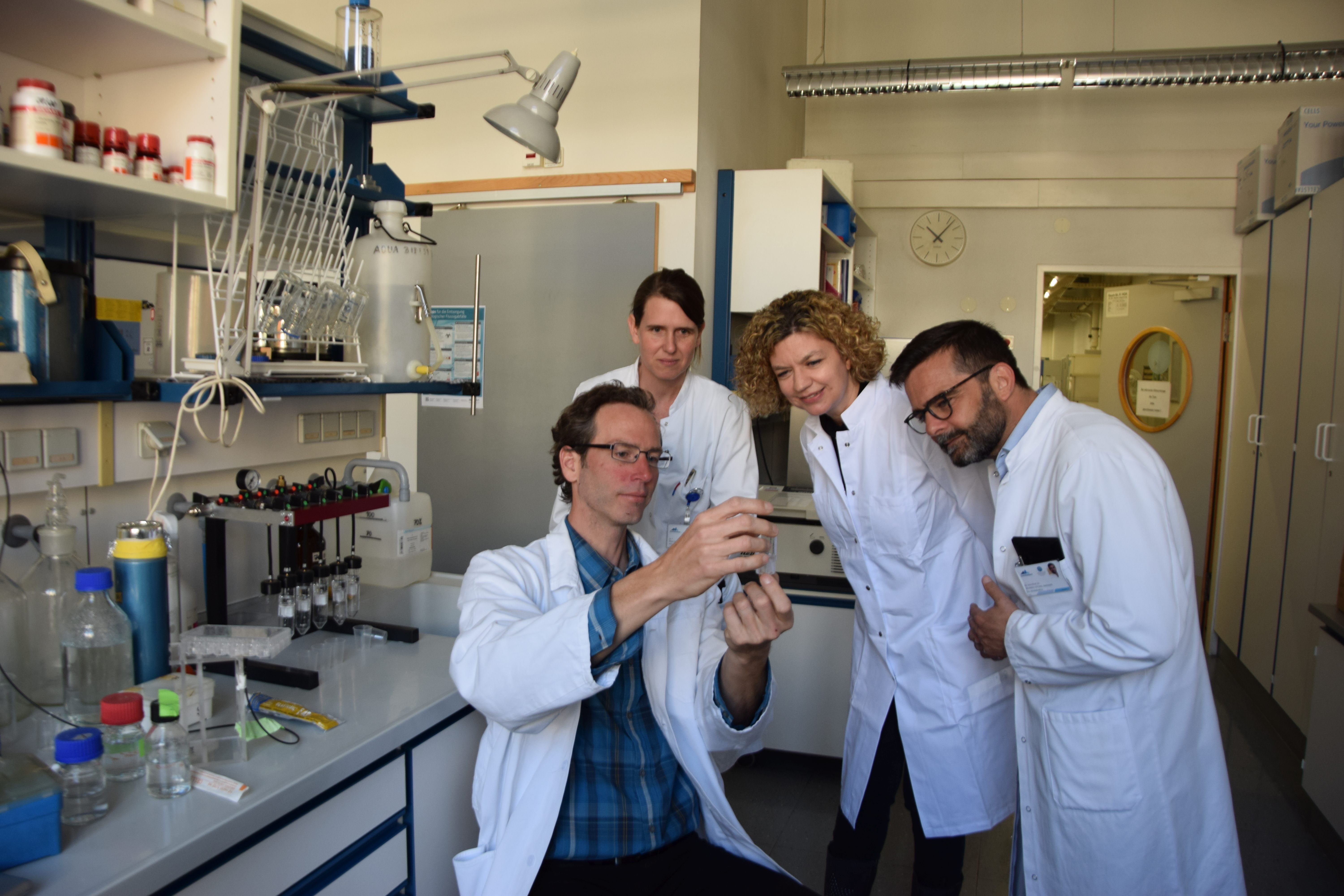 Picture: Lechner LAB; project employees; Copyright: Judith Lechner
Most Relevant References
Judith Lechner: "Gender Dimorphism in the Susceptibility for Renal Diseases".
Science Fund of the Austrian Central Bank, Project No. 13671
http://www.oenb.at/jublfonds/jublfonds/projectsearch?id=5101&action=detailview&origin=resultlist
Judith Lechner: "Paracellular Permeability Regulation by Cytokines".
Austrian Science Fund FWF, Project No. P17583-B13
http://pf.fwf.ac.at/de/wissenschaft-konkret/project-finder/?search%5Bwhat%5D=Judith+Lechner&search%5Bscience_discipline_id%5D=&search%5Bpromotion_category_id%5D
Tyrolean Science Fund, Project No. UNI-0404/ 229
https://www.tirol.gv.at/bildung/wissenschaftsfonds/
Lechner J, Hekl D, Gatt H, Voelp M, Seppi T (2011): Monitoring of the dynamics of epithelial dome formation using a novel culture chamber for long-term continuous live-cell imaging Methods Mol.Biol. 763, 169-78
http://link.springer.com/protocol/10.1007%2F978-1-61779-191-8_11
Lechner J, Malloth N, Seppi T, Beer B, Jennings P, Pfaller W. IFN-a induces barrier destabilization and apoptosis in renal proximal tubular epithelium. 
Am J Physiol Cell Physiol 294, C153-60, 2008
http://ajpcell.physiology.org/cgi/reprint/294/1/C153 
Lechner J, Malloth N, Jennings P, Hekl D, Pfaller W, Seppi T. Opposing roles of EGF in IFNa-induced epithelial barrier destabilization and tissue repair. 
Am J Physiol Cell Physiol 293, C1843-50, 2007 
http://ajpcell.physiology.org/cgi/reprint/293/6/C1843 
Nevinny-Stickel M, Poljanc K, Forthuber BC, Heute D, Posch A, Lechner J, Beer B, Lukas P, Seppi T (2007): Optimized Conformal Paraaortic Lymph Node Irradiation is not Associated with Enhanced Renal Toxicity J Rad Oncol Biol Physics 183(7), 385-91
http://link.springer.com/article/10.1007%2Fs00066-007-1657-6 
Lechner J, Krall M, Netzer A, Radmayr C, Ryan MP, Pfaller W (1999): Effects of interferon alpha-2b on barrier function and junctional complexes of renal proximal tubular LLC-PK1 cells.  Kidney Int 55(6), 2178-91
http://www.nature.com/ki/journal/v55/n6/full/4490795a.html 
Lechner J, Welte T, Tomasi JK, Bruno P, Cairns C, Gustafsson J, Doppler W (1997): Promoter-dependent synergy between glucocorticoid receptor and Stat5 in the activation of beta-casein gene transcription.  J Biol Chem 272, 20954-60
http://www.jbc.org/content/272/33/20954.full?sid=cbddd7cd-eebe-4810-8807-5ff0788070f7
People
Judith Lechner completed her studies at the Universities of Vienna and Innsbruck with a PhD in the field of biochemistry. With her research focusing on renal epithelial cell physiology she obtained her "Venia Docendi" in Physiology at the Medical University of  Innsbruck.

Besides her involvement in renal physiology research and teaching she serves as the vice  director of the Division of Physiology and as a member of different university working  groups.  Her current involvements include membership in the

 

  Working Group for Equality Issues

 https://www.i-med.ac.at/ak_gleichbehandlung/

 and the

 Senate of the Medical University of Innsbruck,

 https://www.i-med.ac.at/universitaet/senat/

 

where she acts as the speaker of the representation of the "Mittelbau" (scientific personnel with exception of full professors).

In her free time she is engaged with her family including her two vivid children.
Contact
Judith Lechner
Division of Physiology
Department of Physiology and Medical Physics
Medical University of Innsbruck
Schöpfstraße 41/EG
A-6020 Innsbruck
Tel. ++ 43 (0)512 9003 70825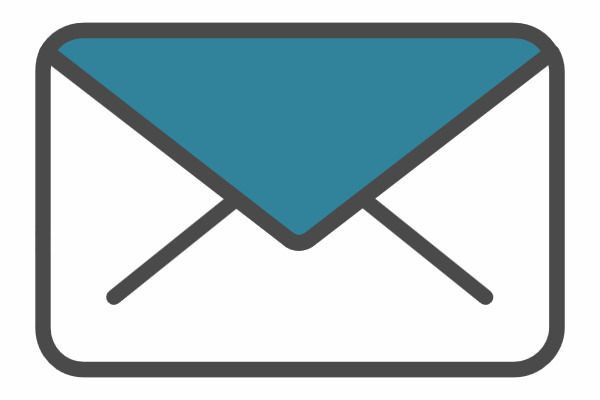 People involved in the current research projects
Oliver Eiter  Oliver.Eiter@i-med.ac.at
Georg Kern  Georg.Kern@i-med.ac.at
Free positions
We have currently two free positions for students to work on their diploma or master thesis in our group.
Students of Medicine, Biology or a related specialization are welcome.