home>research-report>vascularsurgery.html Seite teilen:


Vascular Surgery
Research Focus
General Facts
Research
Selected Publications
Selected Funding, Collaboration

Keywords: peripheral arterial disease, carotid artery disease, aortic aneurysm, aortic dissection, vascular trauma, vascular access surgery, spinal cord ischemia, mitochondrial dysfunction, hybrid aortic repair, hemodynamics
Research (ÖSTAT Classification) : 3616
Research Focus
Outcome and timing of

the

treatment of symptomatic/asymptomatic carotid artery stenosis: carotid artery stenting (CAS) vs. carotid endarterectomy (CEA) vs. best medical treatment (BMT).
Aortic

d

isease (

d

issection,

a

neurysm,

t

rauma): prognosis, treatment (open vs. endovascular surgery) and outcome. Special interest: spinal cord ischemia.
Peripheral

a

rterial

d

isease: prognosis, treatment and outcome. Special interest: mitochondrial function, vascular access complications.
Vascular

t

rauma including early and long-term outcome.
Rare vascular diseases (interdisciplinary)

.
General Facts

At the Department of Vascular Surgery, we are interested in clinical research in all fields of vascular medicine as well as in the establishment of experimental and translational research projects.
In the past, one main focus of our clinical research has been on optimisation of the treatment of carotid artery disease (best medical treatment vs. carotid endarterectomy vs. carotid artery stenting) as well as on optimal timing of revascularisation procedures. In this field, we have participated in international prospective and retrospective trials for many years ("Carotid Stenosis Trialists' Collaboration", "Asymptomatic Carotid Surgery Trial 2").
We elaborate on the optimal treatment of aortic disease and treatment-related complications and we participate in international registries ("EuREC Registry"). We have a special interest in left subclavian artery revascularisation strategies (in aortic aneurysm, dissection and trauma) and the prevention and treatment of spinal cord ischaemia.
With the appointment of Univ.-Prof.in Dr.in Sabine Wipper as the new Director, we have gained expertise in translational research using porcine models. The establishment of an internal vascular research laboratory therefore began in 2020 and will continue in 2021.
Another focus is on research into medical education, with evaluation of the effects of using simulation devices for educating medical students as well as vascular trainees. As such, a collaboration has been initiated with University Medical Center Hamburg-Eppendorf and the university hospital of Sao Paolo.
In close collaboration with the department of vascular surgery at Charité University Hospital Berlin, basic research into mitochondrial alterations in peripheral arterial disease has been established and it is planned that this will continue in Innsbruck.
Research
Carotid
A

rtery

D

isease

In large, randomised, multicentre studies (we are participating in: "Carotid Stenosis Trialists Collaboration"), we are pursuing the question of whether CEA can be performed safely in the early days after stroke and whether CEA is more effective when carried out rapidly after the onset of symptoms.

In addition, historical data on the treatment (and benefit) of surgery in asymptomatic and symptomatic carotid artery stenosis need to be re-evaluated. Nowadays, owing to the frequent use of statins and ACE inhibitors, medical treatment may be significantly superior in comparison with historical studies. Therefore, especially in patients with asymptomatic carotid artery stenosis, indications for surgery need to be re-evaluated in large, randomised, multicentre studies (we are participating in the "Carotid Stenosis Trialists' Collaboration").

The effects of different anaesthesiological techniques (regional anaesthesia versus general anaesthesia) on cardiac output and cerebral blood flow have been evaluated in cooperation with the Department of Anaesthesiology. Data are currently under revision by the Journal of Vascular Surgery.

In a review published by colleagues from the Department of Neurology in the Journal of Translational Medicine in May 2020, Dr. Maria Gummerer contributed the surgical perspective on acute occlusion of the internal carotid artery.
Prevention of
S

pinal

C

ord

I

sch

a

emia in a

R

at

M

odel

Spinal cord ischaemia with paraplegia is a major complication following thoracoabdominal aortic aneurysm surgery. In addition to clinical strategies for prevention of this devasting complication, there is great interest in the identification of neuroprotective substances in experimental testing. Tetrahydrobiopterin, an essential cofactor of the nitric oxide synthase, has been proven to be beneficial in the case of ischaemia reperfusion injury in murine transplant surgery models.

After completing a project funded by MUI Start in 2018 to establish a microsurgical model in rats, Dr.in Dr.in med. Alexandra Gratl's group requested additional funding for continuation of the project; the aim of this project is to demonstrate further the neuroprotective potential of tetrahydrobiopterin. In March 2019, a funding proposal was submitted to the Tyrolean Science Fund. After rejection of the funding proposal by the Tyrolean Science Fund in March 2019, funding amounting to 10,000 euros was successfully obtained from Tyrol medical research fund in September 2020. The project should begin in January 2021 in collaboration with the Department of Visceral, Transplant and Thoracic Surgery, owing to use of the animal housing facilities at the Daniel Swarowski Laboratory.
Peripheral
A

rterial

D

isease (PAD)

Clinical Research into PAD

Retrospective analysis of the outcome of femoropopliteal revascularisation procedures was undertaken by the group of PD Dr. Florian Enzmann PhD. A comparison of clinical outcome parameters with respect to graft material used (PTFE versus autologous vein) was undertaken as a multicentre cooperation project with the Department of Cardiac, Vascular and Endovascular Surgery at PMU Salzburg. Results were submitted to the Journal of Vascular Surgery in November 2020.

Mitochondrial Function in PAD

Peripheral arterial disease is associated with myopathy in malperfused muscle regions and mitochondria are known to play a crucial role. In cooperation with Charité University Hospital Berlin, Dr.in Dr.in med. Alexandra Gratl was able to demonstrate the potential of mitochondria to recover after successful revascularisation of arteriosclerotic lesions in patients with peripheral arterial disease. This project formed part of her doctoral thesis and was completed by end of 2018; data were published in the European Journal of Vascular and Endovascular Surgery in January 2020. The publication was honoured with a research prize donated by the German Society of Vascular Surgery in October 2020. Further planned projects aim to identify the effects of different treatment strategies on mitochondrial function (conservative treatment with exercise training vs. conservative treatment plus revascularisation).

A proposal for further funding was therefore submitted to the FWF Clinical Research (KLIF) programme in May 2020. A decision is expected by end of 2020. Approval of the planned randomised controlled trial was obtained from the local ethics committee in December 2019.
Vascular Trauma
Institutional characteristics (diagnosis data registry back to 1989, one the biggest trauma centres in Central Europe) have allowed analysis of various aspects of the repair of arterial and venous traumas: peri-operative mortality and analysis of factors associated with early limb loss, early and long-term outcomes including patency of repaired vessels, long-term functional analysis and quality of life. Our research group analysed factors associated with poor functional outcome and used standardised questionnaires to report on long-term quality of life, limb function and cold intolerance, another common finding in this setting. The impact of fasciotomy in patients suffering from vascular trauma was evaluated and results data were submitted to the Journal of Vascular Surgery in November 2020.
Furthermore, iatrogenic injuries were analysed, with special interest in access site complications during vascular interventional procedures. Access site complications are uncommon but in institutions with large numbers of invasive vascular procedures they represent an important issue. We were interested in strategies to reduce such complications and for the surgical repair of access site complications as well as alternative treatment options. Dr.in Maria Gummerer's group published results on the use of fibrin glue for the treatment of femoral pseudoaneurysms in the Journal of Vascular and Endovascular Surgery in May 2020.
Testing of a
N

ew

P

olyphosphate

-B

ased

H

a

emostypticum in a

P

orcine

M

odel

In close collaboration with the German armed forces hospital in Hamburg and University Medical Center Hamburg-Eppendorf, a proposal for animal testing and a proposal for funding (Society on Thrombosis and Haemostasis) were submitted in November 2020. The aim of this project is to test a new polyphosphate-based haemostatic wound dressing. Using a porcine haemorrhagic shock model, the bleeding time and survival of the animals will be investigated by comparing different wound dressings. It is planned that the project will be undertaken in cooperation with local anaesthesiologists who have expertise in porcine models. 
Aortic Dissection
Patients treated with thoracic aortic stent grafts (TEVAR) were evaluated with respect to the consequences of coverage of the left subclavian artery, such as neurological complications including stroke and spinal cord ischaemia, and ischaemic complications of the left upper limb. We have participated in international registries ("EuREC Registry") for outcome evaluation of patients with aortic disease.
Retrospective data analysis was conducted for patients who had been treated for acute aortic dissections with involvement of the descending thoracic aorta from 1999 to 2019. This was undertaken in close collaboration with the department of cardiac surgery. The statistical analysis of the data collected will be completed by the start of 2021 and publication of the data is planned.
Endovascular
A

ortic

T

reatment

The department is participating in a retrospective multicentre trial to investigate the clinical results of the E-nside TAAA multibranch stent graft system in thoracoabdominal aortic aneurysms and in a prospective multicentre trial to evaluate the E-liac stent graft system for the treatment of unilateral or bilateral aortoiliac or iliac aneurysms in close collaboration with the Department of Radiology.
Arteriovenous
F

istula

In cooperation with the Department of Nephrology, Dr.in Maria Gummerer is focusing on clinical research into the role of prophylactic ligation of high flow arteriovenous fistula. As a result, collaborative data were published in the American Journal of Nephrology in May 2020. Within the same collaboration, a multicentre, randomised, controlled trial was started in 2019, which is evaluating the cardiac outcome in patients with brachiocephalic arteriovenous fistula using standard surgical procedures in comparison with prophylactic banding procedures.
Research
into M

edical

E

ducation

After the establishment of a course on anastomosis techniques, the influence on career choices of participating students was evaluated and data will be submitted to a peer-reviewed journal by the end of 2020.
Indocyanine
G

reen

F

luorescent

I

maging

Pre, intra and postoperative quality assessments of tissue perfusion with indocyanine green fluorescence using a near-infrared camera system for different indications are currently in preparation. With the existing expertise of Univ.-Prof.in Dr.in med. Sabine Wipper, the aims of the studies are: intraoperative assessment of infrainguinal revascularisation, preoperative evaluation of major amputation borders in critical limb ischaemia, assessment of amputation borders after acral congelation injury, and quantitative assessment of microperfusion in arteriovenous haemodialysis shunt steal phenomenon.

The laparoscopic assessment of mesenteric ischaemia and the evaluation of liver resection borders are planned in collaboration with the University Clinic for Visceral, Transplant and Thoracic Surgery.
Hybrid Graft for Thoracoabdominal Aortic Repair (project from Hamburg to be continued)
Based on the Thoraflex® hybrid graft (Vascutek Ltd., Glasgow, UK), a hybrid graft was developed as a new hybrid device for thoracoabdominal aortic aneurysm (TAAA) repair. The aim was to offer preventive strategies with respect to perioperative mortality and morbidity using a combined endovascular thoracic and open abdominal aortic approach for TAAA repair in a single stage operation. The SPIDER technique for graft implantation allows temporary retrograde distal perfusion of visceral and renal arteries via the iliac access side-branch following deployment of the thoracic stent graft of the device, thus avoiding the need for thoracotomy and extracorporeal circulation (ECC) whilst facilitating re-implantation of visceral, renal and lumbar arteries. Based on initial clinical experience using an off-the-shelf Thoraflex® hybrid graft for TAAA repair, the SPIDER® graft was specifically designed for retrograde delivery into the descending thoracic aorta. After early feasibility testing in an experimental setting using a pig model, the graft design was further modified and re-evaluated to improve graft deployment, fixation and stability, de-airing to enable reattachment of lumbar arteries and to establish over-the-wire implantation. First in man trials are planned after CE approval.
Selected Publications
Poorthuis MHF, Bulbulia R, Morris DR, Pan H, Rothwell PM, Algra A, Becquemin JP, Bonati LH, Brott TG, Brown MM, Calvet D, Eckstein HH, Fraedrich G, Gregson J, Greving JP, Hendrikse J, Howard G, Jansen O, Mas JL, Lewis SC, de Borst GJ, Halliday A; Carotid Stenosis Trialists' Collaboration: Timing of procedural stroke and death in asymptomatic patients undergoing carotid endarterectomy: individual patient analysis from four RCTs. Br J Surg 2020; 107(6):662-668.
Knappich C, Kuehnl A, Haller B, Salvermoser M, Algra A, Becquemin JP, Bonati LH, Bulbulia R, Calvet D, Fraedrich G, Gregson J, Halliday A, Hendrikse J, Howard G, Jansen O, Malas MB, Ringleb PA, Brown MM, Mas JL, Brott TG, Morris DR, Lewis SC, Eckstein HH: Associations of Perioperative Variables with the 30-Day Risk of Stroke or Death in Carotid Endarterectomy for Symptomatic Carotid Stenosis. Stroke 2019; 50(12):3439-3448.
Gratl A, Frese J, Speichinger F, Pesta D, Frech A, Omran S, Greiner A: Regeneration of Mitochondrial Function in Gastrocnemius Muscle in Peripheral Arterial Disease after Successful Revascularisation. Eur J Vasc Endovasc Surg 2020; 59(1):109-115.
Koller A, Fazzini F, Lamina C, Rantner B, Kollerits B, Stadler M, Klein-Weigel P, Fraedrich G, Kronenberg F: Mitochondrial DNA copy number is associated with all-cause mortality and cardiovascular events in patients with peripheral arterial disease. J Intern Med. 2020; 287(5):569-579.
Gummerer M, Kummann M, Gratl A, Haller D, Frech A, Klocker J, Fraedrich G, Gruber H: Ultrasound-Guided Fibrin  Glue    Injection         for       Treatment      of        Iatrogenic Femoral Pseudoaneurysms. Vasc Endovasc Surg 2020; 54(6):497-503.
Hetz P, Pirklbauer M, Mueller S, Posch L, Gummerer M, Tiefenthaler M: Prophylactic Ligature of AV Fistula Prevents High Output Heart Failure after Kidney Transplantation. Am J Nephrol 2020;51(7):511-519.
Mayer L, Grams A, Freyschlag CF, Gummerer M, Knoflach M: Management and prognosis of acute extracranial internal carotid artery occlusion. Ann Transl Med. 2020 Oct;8(19):1268.
Czerny M, Eggebrecht H, Rousseau H, Mouroz PR, Janosi RA, Lescan M, Schlensak C, Böckler D, Ante M, Weijde EV, Heijmen R, Eckstein HH, Reutersberg B, Trimarchi S, Schmidli J, Wyss T, Frey R, Makaloski V, Brunkwall J, Mylonas S, Szeberin Z, Klocker J, Gottardi R, Schusterova I, Morlock J, Berger T, Beyersdorf F, Rylski B: Distal Stent Graft-Induced New Entry after TEVAR or FET: Insights into a new disease from EUREC. Ann Thorac Surg 2020; 110(5):1494-1500.
Duprée A, Rieß HC, con Kroge PH, Izbicki JR, Debus ES, Mann O, Pinnschmidt HO, Russ D, Detter C, Wipper SH: Validation of quantitative assessment of indocyanine green fluorescent imaging in a one-vessel- model. PLoS One. 2020 Nov 18;15(11).
Wipper S, Kölbel T, Sandhu HK, Manzoni D, Duprée A, Estrera AL, Safi H, Miller CC 3rd, Tsilimparis N, Debus ES: Impact of hybrid thoracoabdominal aortic repair on visceral and spinal cord perfusion: The new and improved SPIDER-graft. J Thorac Cardiovasc Surg. 2019 Sep;158(3):692-701.
Debus ES, Kölbel T, Wipper S: The SPIDER Graft: A New Hybrid Device for Thoraco-abdominal Aortic Repair. Eur J Vasc Endovasc Surg. 2019 Apr;57(4):588.
Selection of Funding
Accepted:
Targeting constitutive nitric oxide synthase for prevention of spinal cord ischemia in rats Medizinischer Forschungsfond Tirol; 10.000 Euro; accepted in Septemer 2020 (Dr. Dr. med. Alexandra Gratl)
Submitted:
Effects of exercise training and interventional revascularization on mitochondrial function in peripheral arterial disease, FWF, Clinical Research (KLIF) Project, submitted May 2020 (Dr. Dr. Alexandra Gratl)
Collaborations
Department of Vascular Surgery, RWTH Aachen/Maastricht, Germany/Netherlands
Clinic of Vascular Surgery, Charité University Hospital of Berlin, Germany
Department of Vascular Medicine, University Heart & Vascular Centre Hamburg Germany
Department of General, Visceral and Vascular Surgery, Bundeswehrkrankenhaus Hamburg, Germany
Zena and Michael A. Wiender Cardiovascular Institute Icahn School of Medicine at Mount Sinai Hospital, New York, USA
Department of Vascular Surgery, Sao Paolo, Brasil
Department of Surgery (Division of Cardiac Surgery), Medical University Vienna, Austria
ACST-2 trialist group, Nuffield Department of Surgical Sciences, University of Oxford, United Kingdom
Carotid Stenosis Trialists' Collaboration (international research group)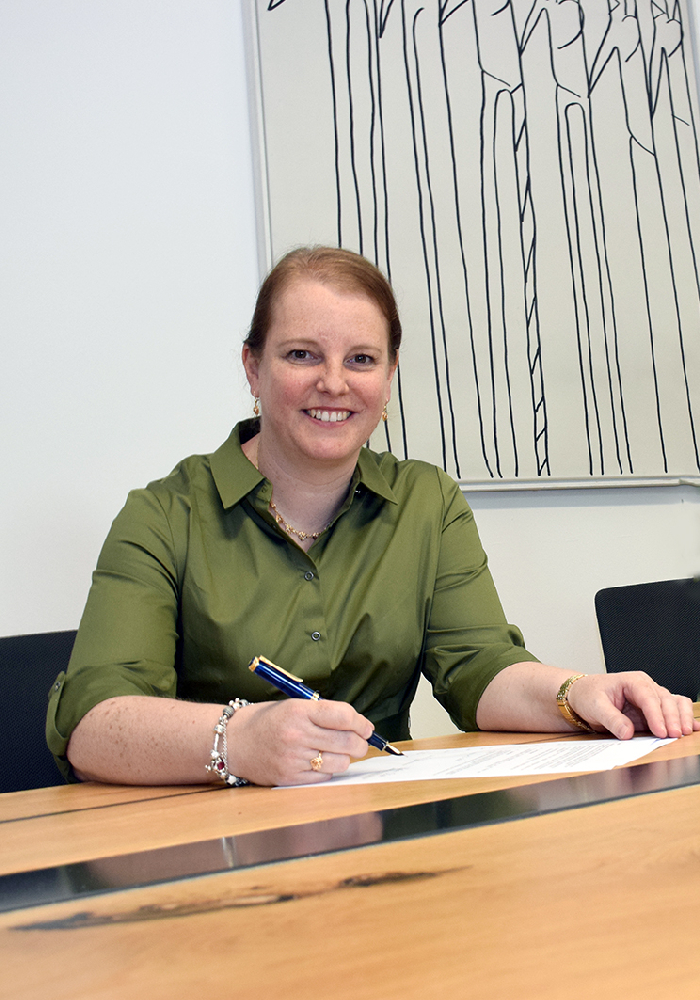 Univ.-Prof.in Dr.in med. Sabine Helena Wipper
Director
Contact:
Anichstraße 35
6020 Innsbruck
Austria
Email: sabine.wipper@i-med.ac.at
Phone: +43 512 504 22587
Fax: +43 512 504 22559
https://gefaesschirurgie.tirol-kliniken.at/