home>research-report>paediatrics1.html Seite teilen:


Paediatrics I
Research Focus
General Facts
Research
Selected Publications
Selected Funding, Collaboration

Keywords: molecular genetics of rare diseases, cell biology, cancer biology, drug discovery, biomarkers, inherited metabolic disorders, metabolomics, breath gas analysis, hemostasiology, diabetes
Research (ÖSTAT Classification): 301114, 301301, 302078, 202012, 202016
Research Focus
Paediatric Gastroenterology and Hepatology
The first description of 8 gene defects that cause rare gastrointestinal and liver diseases is one of the leading and most successful research areas of our department. Assoc. Prof. Dr Andreas Janecke is the group leader of this successful research area. In very close collaboration with the local Institute of Cell Biology (Prof. Dr Lukas Huber), we study the functional consequences of identified gene defects in genome-edited cell cultures and intestinal organoids derived from human biopsies.
Cancer Biology and 3D Bioprinting
Two major questions are investigated by the Molecular Biology Laboratory / 3D Bioprinting Group in the Department of Paediatrics I: one is the role of FOXO transcription factors in normal and malignant cells and strategies to modulate them via small compounds identified through combined in silico / biochemical drug screening approaches. With respect to this, we recently described the first selective inhibitors for FOXO3 and FOXO4 and, in close cooperation with Charles University and Academy of Sciences in Prague, we are currently developing improved lead structures for validated hit compounds. The other focus is on the development of advanced in vitro tissue models produced by means of 3D additive tissue manufacturing/bioprinting. This approach aims to build vascularised tissue equivalents in custom-designed chips ("3D bioprinting on chip"), which allows parallelisation and improved handling, imaging and analysis of tissues equivalents. As pioneers of this field in Austria, we focus mainly on artificial tumour tissue / tumour environment, skin and liver equivalents from the perspective of personalised drug treatment applications and patient-specific tissue manufacturing.
Paediatric Haematology-Oncology
The main focus of paediatric haematology-oncology relies on the performance of clinical studies, so that the success of the therapy can be optimised further. In close cooperation with St Anna Children's Hospital, the Medical University of Vienna and the Medical University of Graz, the portfolio has been expanded and the department can now offer 41 multicentre clinical trials. In addition, 5 further monocentric studies have been prepared and initiated on the subject of supportive care.
Paediatric Rheumatology
The main research focus in paediatric rheumatology is on the development of biomarkers for autoimmune diseases in infancy and adolescence. The complement system, a part of innate immunity, is generally underestimated in the pathogenesis of autoimmune diseases. The initial results of our work suggest an extremely high turnover of complement in some paediatric autoimmunopathies and autoinflammatory diseases. The complement system may be a potential biomarker for monitoring autoimmune diseases and it may indicate subclinical inflammation.
Inherited Metabolic Diseases / Rare Diseases
The main research focus of our group is on the biochemical characterisation of known and unknown inherited metabolic diseases, including the identification of new diseases. In addition, we have implemented methods of investigating pathophysiology and evaluating treatment in diagnosed patients. Inherited metabolic disorders are also part of the project to characterise rare and undiagnosed diseases.
Neuropaediatric Diseases
The main research focus is on the identification of new genetic causes of neurological diseases, including epilepsy, rare channelopathies and neuromuscular diseases. Furthermore, we focus on acquired demyelinating syndromes in children, especially those associated with autoantibodies to myelin oligodendrocyte glycoprotein. In this field, we have a close collaboration with the EU paediatric MOG consortium.
Paediatric Diabetes
Epidemiology, including regular benchmarking and comparison within the national diabetes registry, is the main research focus of data comparison between international paediatric diabetes registries.
Research focus of closed loop systems in childhood diabetes, Horizon 2020 grant: The artificial pancreas in children aged 1 to 7 years with type 1 diabetes (KidsAP).
Paediatric Critical Care Medicine
Our research focuses mainly on extracorporeal therapies as organ support in critically ill children. These include extracorporeal membrane oxygenation (ECMO), continuous renal replacement therapy (CRRT) and therapeutic plasma exchange (TPE). Among others, current studies by private lecturer Dr Gerard Cortina include a study on haemolyses in ECMO patients and on the use of regional citrate anticoagulation during continuous renal replacement therapy. Moreover, private lecturer Dr Christian Niederwanger is investigating coagulation parameters in children with sepsis.
General Facts
The molecular genetic laboratory is led by Assoc. Prof. Dr Andreas Janecke and his team. A collaboration exists with the local Institute of Human Genetics and the Institute of Cell Biology.
The molecular biology laboratory hosts the research team of Assoc. Prof. Dr Michael J. Ausserlechner (cancer biology, 3D bioprinting laboratory) and is equipped with an Apotome live-cell imaging fluorescence microscope, luminescence and fluorescence imaging, flow cytometry, FPLC, qPCR, pipetting robot for drug screening and level-2 cell culture laboratory. Two years ago, together with Judith Hagenbuchner (Paediatrics II), Michael Ausserlechner founded Austria's first 3D bioprinting laboratory (https://www.i-med.ac.at/bioprinting/)to develop technologies for additive, structured tissue engineering, with the aim of reducing and replacing animal experiments in cancer research and beyond. The laboratory is equipped with industry-standard 3D bioprinters (3D Discovery Biosafety and CellInk incredible +) for 3D assembly of living, multi-cell-type tissue equivalents and with FDM/stereolithography printers for rapid prototyping. The bioprinting team cooperates with the metabolic laboratory, Department of Paediatrics I, with groups within MUI (Departments of Gynaecology, Plastic Surgery, Dermatology, Orthopaedics, Hygiene) and with national (TU-Vienna) as well as international partners in Europe (Charles University in Prague, Academy of Sciences in Prague, University of Padova, University of Helsinki) and Canada (University of Alberta). Research projects are financed by peer-reviewed grants from the Austrian Science Fund (FWF) and the Austrian Research Promotion Agency (FFG).
The metabolic laboratory of the Department of Paediatrics I is run by Assoz. Prof.in Dr.in  Sabine Scholl-Bürgi and Daniela Karall. As well as collaboration within the clinic (Assoz. Prof. Dr Ausserlechner and Assoz. Prof. Dr Janecke), there also is close collaboration with other research groups on the campus and especially with the Department of Human Genetics, the Breath Gas Research Group and the Biological Chemistry division. There is also international cooperation with mainly European research groups.
Research
Paediatric Gastroenterology and Hepatology
In 2019 and 2020, our research group (Assoc. Prof. Dr Andreas Janecke, Assoc. Prof. Dr Thomas Müller, Dr Georg Vogel PhD and Prof. Dr Thomas Müller) identified a novel cause of congenital enteropathy (APS1). It was shown for the first time that high elevations of plasma γ-Glutamyltransferase are caused by γ-Glutamyltransferase 1 (GGT1) transmembrane mutations.
Cancer Biology and 3D Bioprinting
The main research interests of Assoz. Prof. Dr M.J. Ausserlechner and his team partner private lecturer Dr J. Hagenbuchner (Dept. of Paediatrics II) lie in the molecular function and regulation of FOXO transcription factors and advanced tissue engineering via 3D bioprinting. In cooperation with partners from Innsbruck, Padua, Prague and Canada, we investigate prognostic relevance and molecular function of these transcriptional master regulators of cell homeostasis and identify novel drugs by a combination of in silico, biochemical and cell-based screening. The second focus of the research team lies in tissue engineering by means of additive 3D manufacturing. In this research focus, living cells and bioactive hydrogels are 3D bioprinted to develop perfused tissue equivalents for human skin, lung and liver tumour tissue. The major aim is to replace and reduce animal experiments and to close the evolutionary gap between experimental animals and the use of drugs in human beings. Applications of these complex tissue models are being studied in human diseases and in vitro drug testing.
Inherited Metabolic Disorders / Rare Diseases
The main research interests of the group of a.Univ.-Prof.Dr. D. Karall and PD Dr. S. Scholl-Bürgi lie in the inherited metabolic disorders of propionic/methylmalonic acidaemia, long-chain fatty-acid oxidation disorders and disorders of energy metabolism at clinical, epidemiological, biochemical and molecular level. In recent years, the research has focused on the identification of new disorders (e.g. CoQ4, mitochondrial fission and fusion, SPENCD, PIGQ) and the characterisation of known disorders (e.g. LCHAD deficiency, GLUT1 deficiency syndrome, PIGA, FBXL4, ALG8-CDG).
Inherited metabolic disorders are embedded in the activities of the Centre of Rare Diseases in Innsbruck (Zentrum für seltene Krankheiten Innsbruck), which has coordinated networking between clinical and research colleagues on the campus since 2015. 
Paediatric Haematology-Oncology
We have taken part in a large number of international clinical studies, which (with and without co-authorship) have resulted in numerous presentations at international meetings and publications in renowned journals as well as integration into international guidelines on paediatric cancer care. Both independently of this and autonomously, we have initiated further studies to optimise the supportive care of patients with childhood cancer, such as the effective prophylaxis of invasive fungal infections in patients with acute leukaemia and the effectiveness of using extracorporeal membrane oxygenation in patients with childhood cancer and respiratory failure. This focus is now being expanded further; studies in the area of patient-reported outcome and studies on the pathophysiology of oncological patients in intensive care medicine have already been initiated. 
Paediatric Rheumatology / Rare Diseases
We focus on the role of the complement system in autoinflammatory diseases and provide patient data to the following international registries: BIKER( the biological registry of the German society for paediatric and adolescent rheumatology – Gesellschaft für Kinder und Jugendrheumatologie), EUROFEVER (PRINTO registry for autoinflammatory diseases). 
Neuropaediatric Diseases
Our research focuses on collaborations to describe rare channelopathies of neurological diseases (Ehlers Danlos, KCNQ2, GABRG2, GRIN2A mutations and ring chromosome 18). Dr Matthias Baumann focuses on collaborations in particular to describe Ehlers Danlos syndrome and acquired demyelinating syndromes in children (e.g. MOG-Ab-associated diseases).
Diabetes Registries
Assoz. Prof.in PD Dr.in Sabine Hofer
Since 2013, our main focus has been on the international comparison, both with various European countries and worldwide, of diabetes management and outcome parameters in children and adolescents with diabetes.
Diabetes Treatment in Early Childhood
Assoz. Prof.in PD Dr.in Sabine Hofer

Closed loop studies – Horizon 2020 Grant – KidsAP, ongoing until 31.12.2021
Genetic Diabetes

Univ.-Prof.in Dr.in Elisabeth Steichen and Assoz. Prof.in PD Dr.in Sabine Hofer focus on rare neonatal forms and manifestations of diabetes and hyperinsulinism.
Paediatric Critical Care Medicine

Dr Gerard Cortina focuses on the identification of criteria that influence outcome in critically ill children who have received extracorporeal therapies such as ECMO, CRRT and TPE, both individually or in combination. These retrospective analyses have been performed in collaboration with the department of critical care at the Royal Children's Hospital in Melbourne, Australia.
Selected Publications
Pediatric Gastroenterology and Hepatology
Klee KMC, Janecke AR, Civan HA, Rosipal Š, Heinz-Erian P, Huber LA, Müller T, Vogel GF AP1S1 missense mutations cause a congenital enteropathy via an epithelial barrier defect. Hum Genet. 2020 Oct;139(10):1247-1259. doi: 10.1007/s00439-020-02168-w.
De Grandi A, Franzini M, Rosipal Š, Rosipal R, Debreova M, Corti A, Ruetzler-Dichtl E, Scholl-Bürgi S, Paolicchi A, Pompella A, Emdin M, Zampa G, Witt H, Zoller H, Tilg H, Mayatepek E, Herebian D, Pramstaller PP, Müller T, Janecke AR. Highly Elevated Plasma γ-Glutamyltransferase Elevations: A Trait Caused by γ-Glutamyltransferase 1 Transmembrane Mutations. Hepatology. 2020 Mar;71(3):1124-1127. doi: 10.1002/hep.30944.
Cancer Biology and 3D Bioprinting
Hagenbuchner J, Obsilova V, Kaserer T, Kaiser N, Rass B, Psenakova K, Docekal V, Alblova M, Kohoutova K, Schuster D, Aneichyk T, Vesely J, Obexer P, Obsil T, Ausserlechner MJ. (2019). Modulating FOXO3 transcriptional activity by small, DBD-binding molecules. Elife. 2019 Dec 4;8. pii: e48876. doi: 10.7554/eLife.48876.
Hagenbuchner J., Oberacher H., Arnhard K., Kiechl-Kohlendorfer U., Ausserlechner M.J. (2019) Modulation of respiration and mitochondrial dynamics by Smac-mimetics for combination therapy in chemoresistant cancer. Theranostics 9(17):4909-4922. doi: 10.7150/thno.33758. eCollection 2019.
Salcher S, Spoden G, Hagenbuchner J, Führer S, Kaserer T, Tollinger M, Huber-Cantonati P, Gruber T, Schuster D, Gust R, Zwierzina H, Müller T, Kiechl-Kohlendorfer U, Ausserlechner MJ, Obexer P. (2019). A drug library screen identifies Carbenoxolone as novel FOXO inhibitor that overcomes FOXO3-mediated chemoprotection in high-stage neuroblastoma. Oncogene. 2019 Oct 7. doi: 10.1038/s41388-019-1044-7.
Pediatric Hematology-oncology
Benefits of risk-adapted and mould-specific antifungal prophylaxis in childhood leukaemia. Meryk A, Kropshofer G, Hutter J, Fritz J, Salvador C, Lass-Flörl C, Crazzolara R. Br J Haematol. 2020 Jul 4;191(5):816-24. doi: 10.1111/bjh.16931.
Diabetes Registries
DeSalvo DJ, Miller KM, Hermann JM, Maahs DM, Hofer SE*, Clements MA, Lilienthal E, Sherr JL, Tauschmann M, Holl RW;T1D Exchange and DPV Registries. Continuous glucose monitoring and glycemic control among youth with type 1 diabetes: international comparison from the  T1D Exchange and DPV Initiative. Pediatric Diabetes 2018;19(7):1271-1275, *corresponding author
Diabetes Treatment in Early Childhood
Dovc K, Boughton C, Tauschmann M, Thabit H, Bally L, Allen JM, Acerini CL, Arnolds S, de Beaufort C, Bergenstal RM, Campbell F, Criego A, Dunger DB, Elleri D, Evans ML, Fröhlich-Reiterer E, Hofer S, Kapellen T, Leelarathna L, Pieber TR, Rami-Merhar B, Shah VN, Sibayan J, Wilinska ME, Hovorka R; APCam11, AP@Home, and KidsAP Consortia.

Young Children Have Higher Variability of Insulin Requirements: Observations During Hybrid Closed-Loop Insulin Delivery. Diabetes Care. 2019 Jul;42(7):1344-1347. doi: 10.2337/dc18-2625.
Pediatric Critical Care Medicine
Selection of Funding
Jubiläumsfonds der Österreichischen Nationalbank, grant no. 16678 (to Andreas Janecke)
Jubiläumsfonds der Österreichischen Nationalbank grant no. 18019 (to Georg Vogel)
Tiroler Wissenschaftsfonds, grant no. 0404/2386 (to Georg Vogel)
Kinderkrebshilfe für Tirol und Vorarlberg (to Thomas Müller)
Collaborations
Prof. Dr. Tomas Obsil, Biophysical Chemistry, Charles University Prague, Prague, Czech Republic
Prof. Prof. Dr. Ralf Rieker, Institut of Pathology, University of Erlangen, Germany
Prof. Dr. Gerhard Wolber, Institute of Pharmaceutical Chemistry, FU-Berlin, Germany
Dr. Suse Benseler, Childhood Arthritis and Rheumatology Research Alliance (CARRA), Pediatric Rheumatology European Society: BRAIN WORKS; Toronto, Canada
Prof. James R. Goldenring, MD, PhD, Section of Surgical Sciences, Vanderbilt University School of Medicine, Nashville, USA
Prof. Dr. Hans Clevers, Hubrecht Institute, Utrecht, The Netherlands
Prof. Dr. Stefan Kölker, EIMD (European Network for Intoxication Type Metabolic Disorders), Medical University of Heidelberg, Germany
Prof. Dr. Thomas Obladen, iNTD (International Neurotransmitter Disease Network), Medical University of Heidelberg, Germany
Prof. Dr. Johnnes Häberle, UCD (urea cycle disorders) guideline group, University Children´s Hospital Zürich, Switzerland
Prof. Dr. Ron Wevers, Dr. Dirk J. Lefeber, University Children´s Hospital Nijmegen, The Netherlands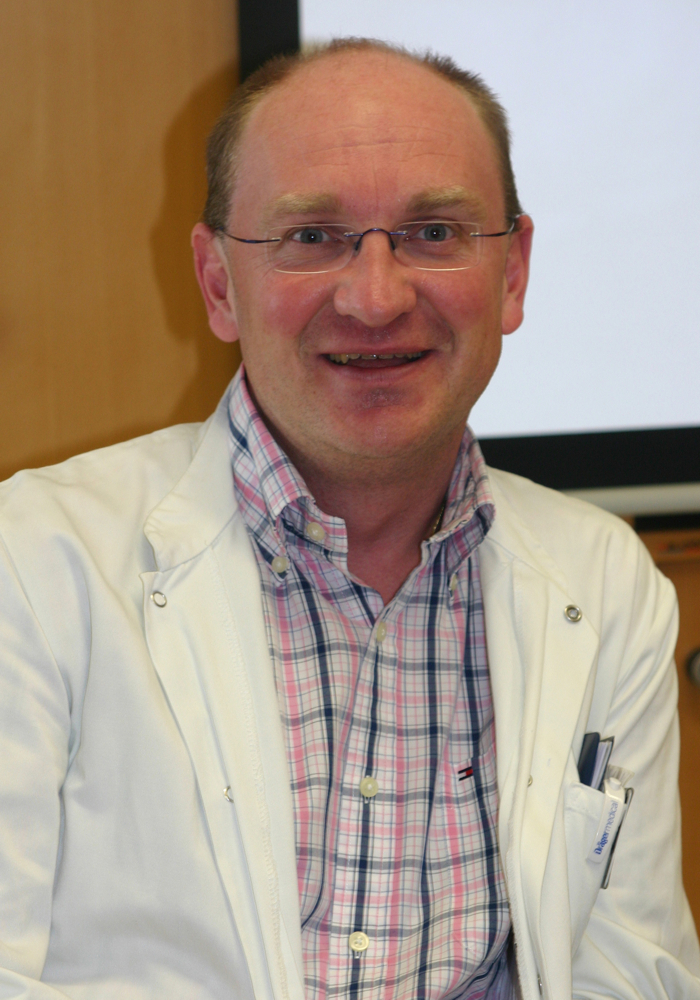 Univ.-Prof. Mag. Dr.med.univ. Thomas Müller
Director
Contact:
Anichstraße 35
6020 Innsbruck
Austria
E-mail: Thomas.Mueller@i-med.ac.at
Phone: +43 512 504 23500
Fax:       +43 512 504 25450
https://kinderzentrum.tirol-kliniken.at/page.cfm?vpath=paediatrie-i