home>research-report>obstetrics-and-gynaecology.html Seite teilen:


Obstetrics and Gynaecology
Research Focus
General Facts
Research
Selected Publications
Selected Funding, Collaboration

Keywords: Clinical studies, Gynaecologic Oncology, Senology, Biobanking, Translational Research, Biomarker-identification
Research (ÖSTAT Classification) : 302022, 302017, 30205, 301306
Research Focus
Clinical and preclinical studies in cancers specific to women, with regard to prevention, diagnosis, treatment and follow-up care

Translational research

Collection of biosamples (tissues, serum, ascites…)

Biomarker identification in breast and gynaecological malignancies

Specialist interest in increasing understanding of the development of cancers specific to women
General Facts

The clinical trials conducted by the department in collaboration with other task forces and research groups, both within the clinic and internationally, are coordinated by AGO Studienzentrale as the trial office of the non-profit organisation AGO Austria (Austrian gynaecological oncology work group). The aim is to promote and advance gynaecological (especially ovarian and breast) cancer research with regard to prevention, diagnosis, treatment and follow-up care. Current trials involve targeted therapies, e.g. poly (adenosine diphosphate-ribose) polymerase (PARP) or PI3K inhibitors, immunotherapy with checkpoint inhibitors, as well as novel cytotoxic substances and antibody-drug conjugates. Chemotherapy-based, chemotherapy-free and surgical trials for the aforementioned as well as other gynaecological malignancies are also assessed.
The pre-clinical studies are conducted mainly in the Laboratory for Clinical Biochemistry (Head: Heidi Fiegl). The laboratory is certified in accordance with ISO 9001:2015 and houses the serum and the fresh frozen tissue biobank of this department, which contains fresh frozen tissue samples from over 1,000 patients, ascites samples from over 1,500 patients and serum samples (pre-therapeutic samples and samples taken during the follow-up period) from over 3,000 patients. Biobanking has been undertaken here since the 1980s and it has been optimised over the years.
Research

Clinical Trials: Gynaecological Oncology
Leader: Christian Marth
A number of gynaecological cancer trials (surgical and therapeutic trials) are being conducted in the department, to assess the efficacy and safety of different types of treatment, including targeted therapies such as angiogenesis inhibitors, poly(ADP-ribose) polymerase inhibitors and immunotherapy, especially checkpoint inhibitors for PD-1, PD-L1. These trials are being conducted in ovarian (OC), endometrial (EC) and cervical cancer (CC) as well as other gynaecological diseases such as vulvar intraepithelial neoplasia.
Selected trials are described below:
PAOLA-1: A randomised, double-blind, phase-III trial to assess the efficacy of the PARP inhibitor olaparib vs. a placebo in the maintenance treatment of patients with advanced FIGO stage-IIIb – IV high-grade serous or endometrioid OC, fallopian tube or peritoneal cancer. This trial has been completed and met its primary objective, demonstrating a statistically significant improvement in progression-free survival in the intent-to-treat population when olaparib was added to first-line standard-of-care bevacizumab maintenance treatment in comparison with a placebo.
IMAGyn050: A study of atezolizumab versus a placebo in combination with paclitaxel, carboplatin and bevacizumab in participants with newly diagnosed stage-III or stage-IV OC, fallopian tube or primary peritoneal cancer.
INNOVATE-3: A pivotal, randomised, controlled, open-label trial, designed to test the efficacy and safety of tumour treating fields (TT fields) generated by a medical device, the NovoTTF-100L(O) system, in combination with paclitaxel for patients with platinum-resistant OC.
LEAP 001: A phase-III trial comparing an immunotherapy (pembrolizumab) and a targeted therapy (levatinib) with chemotherapy in patients with stage-III or IV EC or in patients whose cancer has returned following previous treatment.
Leader: Nicole Concin
Epithelial OC (EOC) is the most lethal gynaecological malignancy. The predominance of aggressive type-II tumours, characterised by a high frequency of p53 mutations, and primary or acquired resistance to platinum-based chemotherapy contribute significantly to the high mortality rate. The EU project GANNET53 (Ganetespib in metastatic, p53 mutant, platinum-resistant OC) was conducted to address the need for more effective treatment strategies to improve the dismal survival rate of these patients. Within this EU project, two different clinical trials are being conducted.
GANNET53 CLINICAL TRIAL: A phase-I and phase-II trial. The GANNET53 trial is a Europe-wide, multicentre clinical trial involving national trial groups. Recruitment to the GANNET53 phase-II clinical trial closed in September 2016.
EUDARIO CLINICAL TRIAL: A European, multicentre, randomised, three-arm, open-label, phase-II trial in mutp53, platinum-sensitive OC patients. This evaluates the safety and efficacy both of Ganetespib in combination with carboplatin and of the PARP inhibitor niraparib in comparison with standard treatment options. This trial is currently open for recruitment.
Clinical Trials: Breast Cancer
Leader: Christian Marth
The breast cancer (BC) care unit successfully participated in several clinical trials in 2019 and 2020, especially in trials using new checkpoint inhibitors. Furthermore, we were able to offer the very promising HER 2 antibody-drug conjugate trastuzumab deruxtecan.
Below is a short selection of the most important clinical trials:
ABCSG 45: A prospective, open, randomised, phase-II study of carboplatin/olaparib in the pre-operative treatment of patients with triple-negative primary BC exhibiting the features of positive homologous recombination deficiency (HRD) status.
ABCSG 52 / ATHENE: An open-label, two-arm, randomised, single-stage, phase-II study of atezolizumab in combination with dual HER2 blockade plus epirubicin as a neoadjuvant therapy for Her2-positive early BC.
NATALEE: A phase-III, multicentre, randomised, open-label trial to evaluate the efficacy and safety of ribociclib with endocrine therapy as an adjuvant treatment in patients with hormone receptor-positive, HER2-negative, early BC.
HER2 CLIMB: A phase-2 randomised, double-blind, controlled study of tucatinib vs. a placebo in combination with capecitabine and trastuzumab in patients with pre-treated, unresectable, locally advanced or metastatic HER2+ BC.

Biomarker Identification in Cancer
A selection of the most important projects is shown:
Leaders: Alain Zeimet, Daniel Reimer
SMARCA4 and EZH2 expression in ovarian cancer: SMARCA4 and EZH2 are two functional key players of their respective antagonising chromatin remodelling complexes, SWI/SNF and PRC2. EZH2 inhibitory drugs may abrogate pro-oncogenic features of PRC2 and turn the balance to cell differentiation via SWI/SNF activity in cancers. SMARCA4 and EZH2 expression analysis in 238 OC tissues showed that a high SMARCA4 expression is associated with improved survival, whereas moderate/high EZH2 expression predicts a poor outcome, which converts to favourable survival in ultra-high expressing OCs. EZH2 is a good example, which shows that a biomarker can change its prognostic attributes with the levels of its expression in the same tumour entity. Such conversions may be dependent on a specific molecular context in the cancers concerned.
Clinical impact of RANK signalling in ovarian cancer: The receptor activator of the nuclear factor-κB (RANK) pathway, activated by RANK ligand (RANKL), critically controls bone metabolism, tumourigenesis and tumour immune responses. Denosumab, a monocloncal RANKL antibody, exerts tumour-suppressive effects in mice and humans. Here, we investigated the relevance of RANK signalling in OC in four OC cell lines, 192 epithelial OC tissues from our local biobank, and the findings were validated in a cohort of 563 OC patients from The Cancer Genome Atlas (TCGA). RANK, RANKL and OPG were expressed in epithelial and stromal cells in OC (Fig. 1). RANKL expression was elevated in OC tissue, particularly in BRCA1/2 mutated tumours. High RANKL expression independently predicted reduced progression-free (PFS) and overall survival (OS), which it was possible to validate in the TCGA cohort. The expression of RANK and OPG in OC cells was induced by inflammatory cytokines IL-1β and TNFα. Neither recombinant RANK ligation nor denosumab treatment affected OC cell proliferation. Our study independently links RANKL expression with poor clinical outcome in two unrelated OC cohorts. These findings implicate RANK signalling in the immunopathogenesis of OC and warrant clinical trials with denosumab in OC.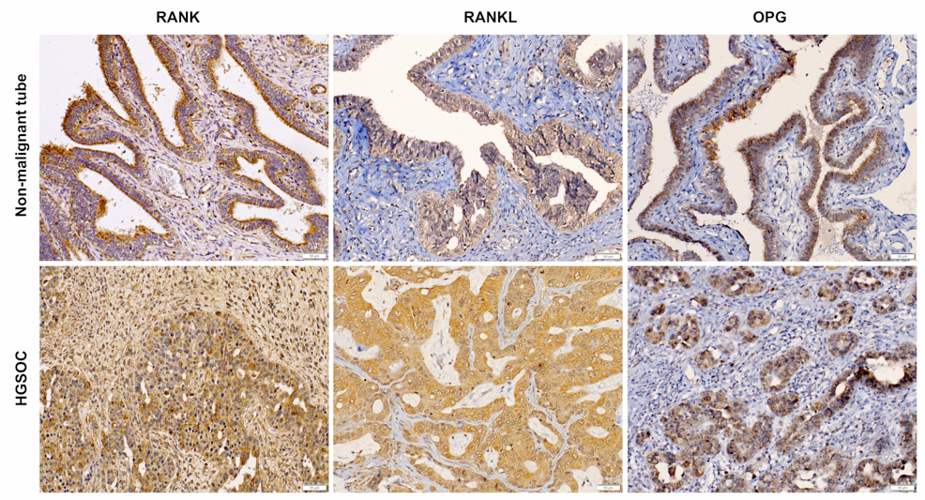 Fig.1: RANK, RANKL and OPG localisation to cancer cells and tumour microenvironment in OC. Representative RANK, RANKL and OPG immunohistochemistry on FFPE sections from non-malignant tubes and HGSOC. n = 8 – 10 (per target); scale bars indicate 50 µm.   
Leader: Heidi Fiegl
Retinoic acid‐inducible gene‐I in OC: The lack of indication for immunotherapy in OC treatment may result, at least in part, from the lack of suitable biomarkers allowing stratification of potentially responsive patients. In a monocentric study of 141 cases with OC, the expression of retinoic acid‐inducible gene‐I (RIG‐I) was analysed in primary tumour and healthy ovarian control tissues. RIG‐I was overexpressed in the cancerous ovary and correlated with a higher tumour grade. The more aggressive type‐II cancers and cancers with inactivating p53 mutations exhibited higher RIG‐I expression. RIG‐I levels were also elevated in cancers that recurred after remission or were platinum‐refractory. Survival analyses revealed RIG‐I as an independent marker of poor outcome in OC. Continuation analyses revealed the molecular and immunological correlates of RIG‐I expression in the tumour microenvironment, including interferon production and a distinct immune‐regulatory signature involving checkpoint molecules (PD‐L1/PD‐1), the RNA‐editing enzyme ADAR1 and the regulatory T-cell‐specific transcription factor FoxP3. RIG‐I expression may inform checkpoint blockade and/or RIG‐I agonistic targeting in a subset of high‐risk OC patients.
Spermatogenesis-associated protein 2 in gynaecological malignancies: Spermatogenesis-associated protein 2 (SPATA2) was recently identified as a novel component of the TNF receptor 1 (TNFR1) complex and is required for TNFR1 signalling. SPATA2 and TNFA were analysed in OC tissues in 171 patients, in comparison with 14 non-malignant fallopian tubes and an OC cell model. It was shown that SPATA2 expression is regulated by TNFα and IL-1β and serves as an independent predictor of clinical outcome in OC patients. These findings in OC led us to investigate the role of TNF signalling in EC, where we analysed tissues from 239 EC patients. High expression of TNFA and SPATA2 was independently associated with poor outcome in EC patients, which was validated for SPATA2 in a TCGA dataset. Inflammation has been recognised as a hallmark of many human malignancies. Our findings demonstrate that TNF-mediated inflammation is a critical determinant of patient outcome in EC and they suggest that therapeutic targeting of TNF receptor signalling may be beneficial in EC. 
Ovarian Cancer Tumour Spheroid Cultivation
Leaders: Alain Zeimet, Heidi Fiegl; (collaboration with the Dept. of Paediatrics I + II / Michael Ausserlechner, Judith Hagenbuchner)
 Ascites from OC patients acts as a valuable source of endogenous tumour spheroids and as a reservoir of a complex mixture of soluble factors and cellular components that provide a pro-inflammatory and tumour-promoting microenvironment for tumour cells. At least a third of OC patients present with ascites at diagnosis and almost all have ascites at recurrence. In more than 50% of OC patients, large numbers of these macroscopically visible multicellular spheroids are present in the ascites and observed during surgical removal of the main tumours. In this project, we isolate these largely neglected ascites-derived tumour-spheroids, which are likely to contain significant numbers of tumour-initiating cells and tumour spheroids derived from minced tumour specimens. Together with our collaboration partner, we cultivate these spheroids in a microprocessor-controlled bioreactor system and use them as targets for testing the efficacy of different drugs. The concept of this project is shown in Fig. 2.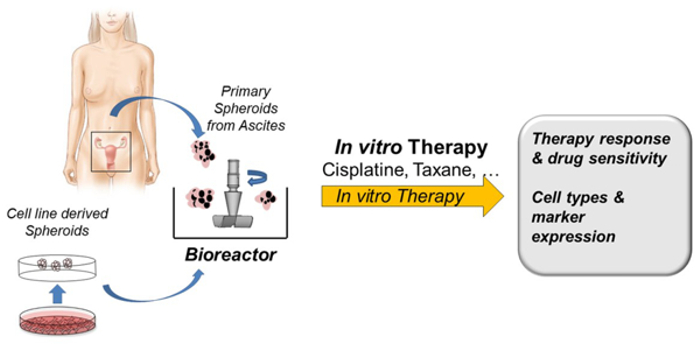 Fig. 2: Project concept description.
Discovery of Oncomicrobes in Ovarian Cancer
Leader: Verena Wieser
Despite growing evidence that the human microbiota promotes carcinogenesis, nothing is known for OC. Microbes promote transformation by affecting genomic stability, resistance to cell death and proliferative signalling. Many bacteria have developed mechanisms to damage DNA and kill competitors, which may provide an evolutionary advantage. The same bacterial defence mechanisms can lead to genetic alterations (e.g. mutations) that contribute to carcinogenesis.
The study deals with the role of microbes in the pathogenesis of OC. On the one hand, microbes are cultured from tumour tissue and analysed by sequencing techniques; on the other hand, the influence of detected microbes on tumour growth is investigated in a 3D cell culture. The aim of this study is to prove that microbes influence tumour growth in OC.

Human Papillomavirus (HPV) Research
Leader: Andreas Widschwendter
Human papillomavirus (HPV) can cause condylomata acuminata, also known as genital warts. There is general concern that cervical cancer screening using HPV testing may lead to considerable overtreatment. In collaboration with the Department of Public Health, Health Services Research and Health Technology Assessment, UMIT, the trade-off between benefits and overtreatment among different screening strategies was evaluated. Depending on the accepted incremental harm-benefit ratio threshold, biennial or triennial HPV-based screening in women from the age of 30 and biennial cytology in younger women may be considered in opportunistic screening settings with low or moderate adherence, such as in Austria. In organised settings with high screening adherence and in post-vaccination settings with lower HPV prevalence, the interval could be prolonged.
Selected Publications
Clinical Trials
Harter, Philipp; Sehouli, Jalid; Lorusso, Domenica; Reuss, Alexander; Vergote, Ignace; Marth, Christian; Kim, Jae-Weon; Raspagliesi, Francesco; Lampe, Bjoern; Aletti, Giovanni; Meier, Werner; Cibula, David; Mustea, Alexander; Mahner, Sven; Runnebaum, Ingo B.; Schmalfeldt, Barbara; Burges, Alexander; Kimmig, Rainer; Scambia, Giovanni; Greggi, Stefano; Hilpert, Felix; Hasenburg, Annette; Hillemanns, Peter; Giorda, Giorgio; von Leffern, Ingo; Schade-Brittinger, Carmen; Wagner, Uwe; du Bois, Andreas: A Randomized Trial of Lymphadenectomy in Patients with Advanced Ovarian Neoplasms. NEW ENGLAND JOURNAL OF MEDICINE. 2019; 380(9); 822-832. PubMed: 30811909 doi: 10.1056/NEJMoa1808424.
Vergote, Ignace; Scambia, Giovanni; O'Malley, David M.; Van Calster, Ben; Park, Sang-Yoon; del Campo, Josep M.; Meier, Werner; Bamias, Aristotelis; Colombo, Nicofetta; Wenham, Robert M.; Covens, Al; Marth, Christian; Mirza, Mansoor Raza; Kroep, Judith R.; Ma, Haijun; Pickett, Cheryl A.; Monk, Bradley J.; TRINOVA-3 ENGOT-ov2 GOG-3001 Inves: Trebananib or placebo plus carboplatin and paclitaxel as first-line treatment for advanced ovarian cancer (TRINOVA-3/ENGOT-ov2/GOG-3001): a randomised, double-blind, phase 3 trial. LANCET ONCOLOGY. 2019; 20(6); 862-876. PubMed: 31076365 doi: 10.1016/S1470-2045(19)30178-0.
Gnant, Michael; Pfeiler, Georg; Steger, Guenther G.; Egle, Daniel; Greil, Richard; Fitzal, Florian; Wette, Viktor; Balic, Marija; Haslbauer, Ferdinand; Melbinger-Zeinitzer, Elisabeth; Bjelic-Radisic, Vesna; Jakesz, Raimund; Marth, Christian; Sevelda, Paul; Mlineritsch, Brigitte; Exner, Ruth; Fesl, Christian; Frantal, Sophie; Singer, Christian F.; Austrian Breast Colorectal Canc St: Adjuvant denosumab in postmenopausal patients with hormone receptor-positive breast cancer (ABCSG-18): disease-free survival results from a randomised, double-blind, placebo-controlled, phase 3 trial. LANCET ONCOLOGY. 2019; 20(3); 339-351. PubMed: 30795951 doi: 10.1016/S1470-2045(18)30862-3.
Biomarker Identification in Cancer
Selection of Funding
Collaborations
Collaborations in Translational research projects:
Prof. Dr. Robert Zeillinger, Medical University Vienna, Vienna, Austria
Priv.-Doz. Dr. Maximilian Bösch, Cantonal Hospital St. Gallen, St. Gallen, Switzerland
Collaborations in Clinical Trials with (inter)national research groups:
AGO Austria - Arbeitsgemeinschaft Gynäkologische Onkologie
ENGOT - European Network for Gynecological Oncological Trial groups (Cooperation with 19 trial groups)
GCIG - Gynecologic Cancer InterGroup (Cooperation with 25 international trial groups)
ABCSG - Austrian Breast & Colorectal Cancer Study Group
International collaboration with trial groups outside of ENGOT, GCIG or ABCSG trials:
Prof. Dr. Jalid Sehouli, Charité Berlin, Germany; Nord-Ostdeutsche Gesellschaft für Gynäkologische Onkologie (NOGGO e.V.)
EORTC - European Organization for Research and Treatment of Cancer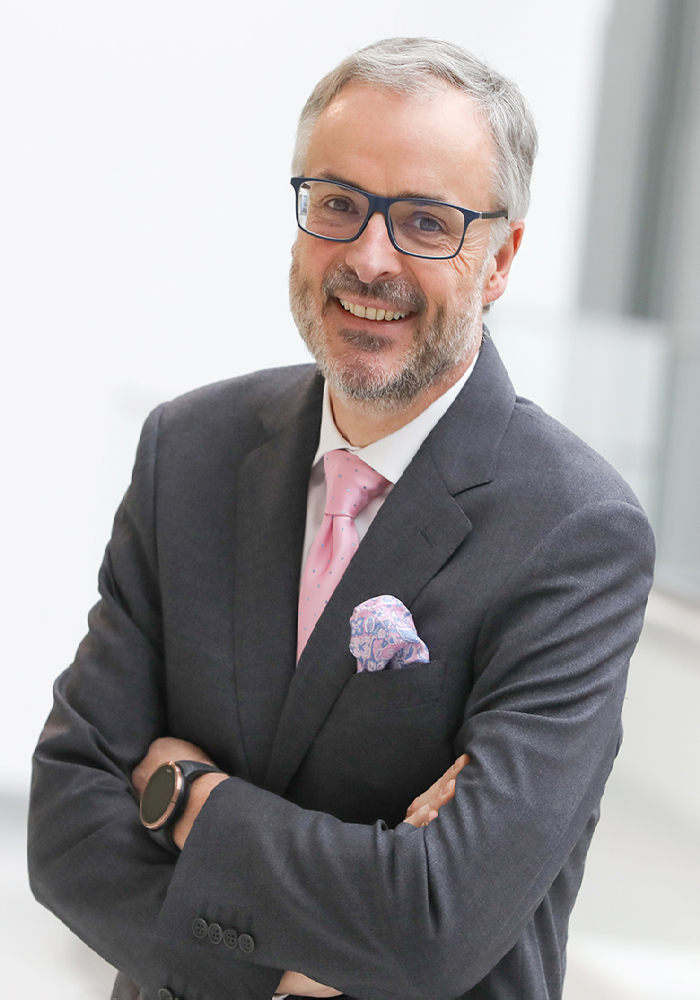 Univ.-Prof. Dr. med. univ. Christian Marth
Director
Contact:
Anichstraße 35, Frauenkopfklinik Haus Nr. 3
6020 Innsbruck
Austria
Email: Christian.Marth@i-med.ac.at
Phone: +43 512 504 23051
Fax: +43 512 504 23055
https://www.i-med.ac.at/patienten/ukl_gynaekologie_geburtshilfe.html
https://frauenheilkunde-innsbruck.tirol-kliniken.at