Gynaecological Endocrinology and Reproductive Medicine
Research Focus
General Facts
Research
Selected Publications
Selected Funding, Collaboration

Keywords: Reproductive medicine, fertility preservation, endometriosis, PCOS, recurrent miscarriage, recurrent implantation failure, gynaecological endocrinology, early pregnancy, gender identity disorders
Research (ÖSTAT Classification) : 302089, 302033
Research Focus
Our research focuses on the physiology and pathology of ovarian and uterine function as well as reproductive immunology, with the following main topics:
Early and recurrent pregnancy loss as well as recurrent implantation failure
Immune tolerance and implantation
Fertility preservation
Endometriosis
Gynaecological endocrine disorders
Contraception
General Facts

The research unit is structured around the laboratories located at the Innrain interdisciplinary facility and at the clinical unit of Gynaecological Endocrinology and Reproductive Medicine. We perform translational research with the aim of applying results obtained in the laboratory to the clinical care of patients and we undertake ongoing clinical research studies. Our clinical outpatient services have more than 17,000 annual patient contacts for endocrine and fertility-related disorders. The department is the coordinating site of the SEF/EEL-certified level-III endometriosis centre, the fertility preservation centre of the FertiProtekt Network and the hormonal centre of Transgender Center Innsbruck (TGCI). We perform approximately 500 stimulated and natural-cycle IVF/ICSI cycles and more than 350 frozen embryo transfers per year. In addition, we offer oocyte, sperm, embryo and ovarian tissue cryopreservation for patients facing loss of fertility as a result of autoimmune and malignant diseases. The IVF laboratory routinely performs embryo culture and cryopreservation as well as trophectoderm biopsies for pre-implantation genetic testing and it works hand-in-hand with our research unit. We work closely with a number of clinical and scientific units of the Medical University of Innsbruck as well as international research partners. Furthermore, we participate in the fellowship programme sponsored by the European Society of Human Reproduction and Embryology (ESHRE), for subspecialty training in reproductive medicine. Several members of our department have been invited to coordinate and serve on multiple international practice guideline committees and are members of academic journal editorial boards. Bettina Böttcher gained a postdoctoral degree (habilitation) in June 2020.
Research

Role of Dendritic Cells in Immune Tolerance and Early Implantation Failure
S.Tollinger, C.Kyvelidou, B.Toth
Dendritic cells (DCs) are critical immune cells at the heart of the delicate balance that allows embryo tolerance by the maternal immune system (Fig. 1). We therefore focus on detecting possible embryo-produced bioactive factors that trigger tolerance in DCs as well as on studying the mechanisms that determine maternal tolerance even before implantation. In our experiments, we co-culture monocyte-derived DCs with spent media (SM) of human embryos that either have or have not successfully implanted. To date, we have observed that several DC genes are upregulated in the presence of SM produced by implanted embryos, whereas others are upregulated in the presence of SM produced by embryos that have not implanted. Furthermore, the secretion of several cytokines by DCs is associated with a successful pregnancy. Our aim is to provide new insights into the function of DCs during implantation and early pregnancy and to identify biomarkers in the SM, which can be used to increase in vitro fertilisation success rates in couples who are suffering from infertility.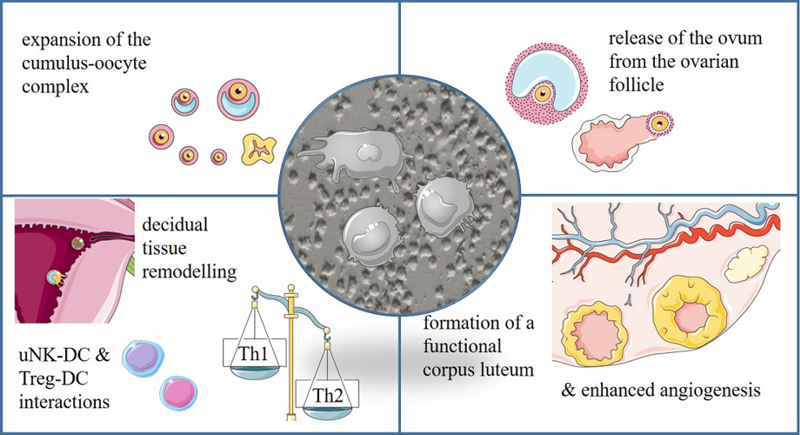 Fig. 1: The role of dendritic cells in female reproduction. Before ovulation, DCs are recruited to ovaries where they help to release the mature oocyte and form the corpus luteum. During early pregnancy, they help to create a hospitable environment for the developing embryo.
Recurrent Pregnancy Loss, Recurrent Implantation Failure
K.Vomstein, C.Kyvelidou, M.Paulitsch, B.Toth
Our group focuses on the identification of new risk factors in the cases of recurrent pregnancy loss (RPL), recurrent implantation failure (RIF) and adenomyosis, since the underlying risk factors leading to pregnancy loss or failed implantation remain elusive in approximately 50% of these patients. We aim to identify new immunological risk factors in patients with RM and RIF, by focusing on lymphocyte subpopulations such as Treg, dendritic and NK-cells and on their interaction with the foetal-maternal interphase as well as the uterine microbiota. By analysing immunological risk factors before conception and during (early) pregnancy, we aim to identify the central roles of the different immunological factors, with the objective of identifying future immunomodulatory treatment-strategies (Fig. 2).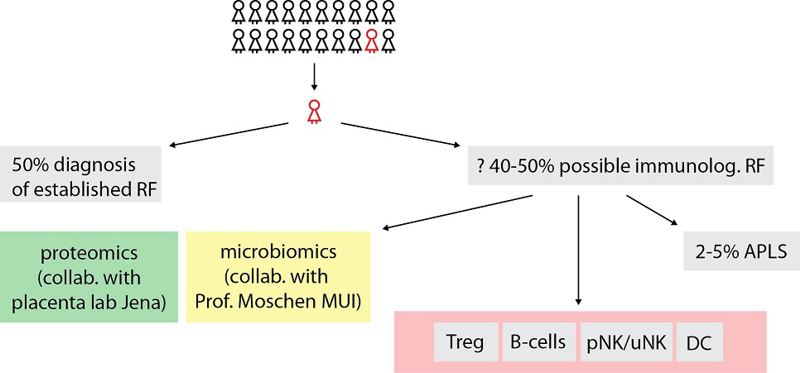 Fig. 2: Outline of our research. One woman in twenty is affected by RM. Around 50% of  cases can be diagnosed from established risk factors. the diagnostic for peripheral and endometrial immune cells is marked in red and this forms a part of our main research. Collaborative projects are marked in green and yellow.
Early Pregnancy
Management of Early Pregnancy Failure
B.Seeber, V.Colleselli-Türtscher
Early pregnancy failure (EPF) (e.g. missed abortion) has traditionally been managed by surgical curettage and evacuation of the uterus. In cooperation with the Department of Obstetrics and Gynaecology, we have optimised the medical management of EPF and offer it to women as a first-line management option with a success rate of over 90%. We have ongoing projects looking critically at the predictive success factors in different subpopulations and using various regimes. 
Early Pregnancy following IVF
A.Aulitzky, B.Seeber, A.Zippl
Recent studies have confirmed that pregnancies following IVF have a higher risk of complications associated with placentation problems, including pre-eclampsia, premature delivery and babies that are small for gestational age. We are conducting a clinical study to identify additional potential early risk factors of these subsequent problems.
Endometriosis and Dysmenorrhea
B.Seeber, B.Böttcher, A.Zippl
Endometriosis affects up to 10 % of the female population and can be a debilitating disease characterised by pelvic pain and infertility. Through our certified level-III clinical research endometriosis centre, we participate in multi-centre network studies and we offer patients the opportunity to take part in phase-III clinical trials of novel treatments. Our investigator-initiated projects evaluate embryo implantation problems in women with endometriosis and adenomyosis and undertake studies into known comorbidities in this patient population, such as quality of life, anxiety and depression.
Gynaecological Endocrinology Disorders
B.Böttcher, H.Hosa, B.Seeber, B.Toth
Our endocrinology outpatient clinics treat women with common hormonal disorders, especially polycystic ovary syndrome (PCOS) and other anovulation disorders, premature ovarian insufficiency and gynaecological disorders in children and adolescents. In cooperation with the Department of Medical Psychology, we have examined the psychological impact of these disorders and published a study into reduced quality of life and higher rates of depression and anxiety in patients with PCOS and patients with dysmenorrhea. Furthermore, we have studied the manifestation of catamenial migraine attacks in adolescents. Social, ethical and psychological aspects were considered in an interdisciplinary research project on the attitudes and motives of potential egg and sperm donors. We have designed and are currently conducting a multi-centre prospective cohort study analysing the correlation between hormonal contraceptives and depression.
Opiate Signalling in the Ovary
B.Seeber, C.Kyvelidou, M.Paulitsch
Prompted by our clinical work on the central nervous system effects of opiate antagonists on ovulatory disorders, we are studying the effects of opiates in the periphery. Specifically, for the first time, we have been able to demonstrate the presence of opiate receptors on human granulosa cells. Current experiments are focusing on quantifying opiate receptors in the ovarian follicle and evaluating their role in oocyte aging. Opiate signalling during the oocyte maturation process is also being studied further.
Fertility Preservation
B.Böttcher, S.Tollinger, E.Reiser, M.Paulitsch, B.Toth
As a member of the FertiProtekt Network, our clinic offers possible fertility preservation strategies to women who are affected by cancer. These include GnRH analogues, cryopreservation of oocytes and/or embryos, and cryopreservation of ovarian tissue followed by autotransplantation after finishing the oncological treatment. The department was the first centre in Austria to perform ovarian tissue cryopreservation. Our current research focuses on the effects of low-dose ovarian irradiation for better understanding of the tolerance of mammalian germ cells to radiation exposure. Using sheep ovaries, we are studying dose-dependent morphological and vitality changes following radiation. Preliminary results show a reduction in follicle numbers and an increase in fibrosis and cortical changes in proportion to increasing doses of radiation. Specifically, while the effects of radiation at 0.1 Gy were comparable with those seen in the sham control, radiation at 1 Gy led to a strong depletion of follicles in the observed tissue. Moreover, fibrosis and cortical changes increased with increasing radiation dose. We have been able to identify vital follicles using neutral red stain in non-irradiated fresh tissue and are comparing these with irradiated tissue (Fig. 3).


Fig. 3: Vital follicles in fresh ovine ovarian tissue seen at 4x magnification, using neutral red staining.
Transgender and Gender-Nonconforming Individuals
K.Feil, H.Hosa, B.Böttcher, B.Toth
Transgender individuals experience discord between their biological sex and their self-identified gender and they seek to develop the physical characteristics of the desired gender. Our department provides cross-sex hormone therapy for adolescents as well as adults, in cases of both female-to-male (FtM) and male-to-female (MtF) treatment. In collaboration with the university clinic of Medical Psychology, we are currently developing a questionnaire to determine health-related quality of life in transgender people during cross-sex hormone treatment. Furthermore, we are evaluating the effects of cross-sex hormone treatment on biochemical parameters, including concentration of gonadotropins, sex steroids, liver enzymes, triglycerides, haemoglobin and body mass index (BMI).
Selected Publications
Böttcher B, Kyprianou A, Lechner C, Kößler M, Heinz-Erian E, Neururer S, Abdel Azim S, Wildt L, Toth B, Baumann M, Rauchenzauner M, Rostásy K: Manifestation of migraine in adolescents: does it change in puberty? Eur J Paediatr Neurol. 2020 Feb 20:S1090-3798(20)30037-4.
Toth, B.; Vomstein, K.; Togawa, R.; Boettcher, B.; Hudalla, H.; Strowitzki, Th.; Daniel, V.; Kuon, R. J.: The impact of previous live births on peripheral and uterine natural killer cells in patients with recurrent miscarriage. REPRODUCTIVE BIOLOGY AND ENDOCRINOLOGY. 2019; 17(1); 72.
Seeber, Beata; Böttcher, Bettina; D'Costa, Elisabeth; Wildt, Ludwig: Opioids and reproduction. VITAMINS AND HORMONES. 2019; 111; 247-279
Vomstein, K, Herzog, A, Voss, P, et al. Recurrent miscarriage is not associated with a higher prevalence of inherited and acquired thrombophilia. Am J Reprod Immunol. 2021, epub 2020; 85:e13327.
Selection of Funding
FWF Der Wissenschaftsfonds (S.Tollinger): Humanes Embryokulturmedium und dendritische Zellen
Fonds zur Förderung der wissenschaftlichen Forschung und des wissenschaftlichen Nachwuchses in Tirol (TWF) (T.K.Vomstein): Identification of new immunologic risk factors in recurrent miscarriage
Medizinischer Forschungsfonds Tirol (MFF) (T.K.Vomstein): Investigation on the intra-cycle alternations of the Uterine microbiota in recurrent miscarriage patients and controls
Industry-Sponsored Clinical Studies
Quintiles Switzerland Sarl:

Prospective Multicentre non-interventional study to assess the patterns of use of rekovelle in women undergoing in vitro fertilisation or intracytoplaxmic sperm injection procedures in routine clinical practise
Collaborations
Prof. Udo Markert, Placenta-Labor, Universitätsklinikum Jena, Jena, Germany
Prof. Dr. Volker Daniel, Transplantation Immunology, Institute of Immunology, Heidelberg University Hospital, Im Neuenheimer Feld 305, 69120 Heidelberg, Germany
PD Dr. Ruben Kuon, Department of Gynecological Endocrinology and Fertility Disorders, Heidelberg University Hospital, Im Neuenheimer Feld 440, 69120, Heidelberg, Germany
Dr. Rienk Nieuwland, UMC Research Institutes, Amsterdam, Netherlands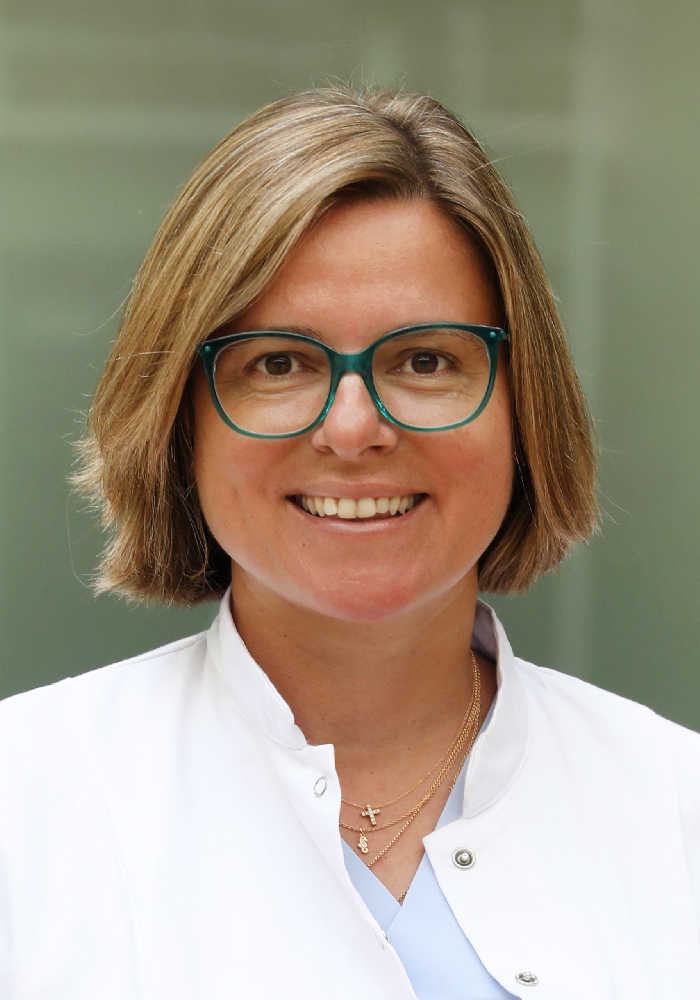 Univ.-Prof.in Dr.in med. Bettina Toth
Director
Contact:
Anichstraße 35, Haus 13
6020 Innsbruck
Austria
Email: bettina.toth@i-med.ac.at   
Phone: +43 512 504 23276
Fax: +43 512 504 23277
https://kinderwunsch.tirol-kliniken.at/page.cfm?vpath=index