home>research-report>gendermedicine.html Seite teilen:


Gender Medicine & Diversity
Research Focus
General Facts
Research
Selected Publications
Selected Funding, Collaboration

Keywords: Gender Medicine, Diversity, Migration/Refugees, Sexuality, Violence, Evidence, Women's/Men's Health
Research (ÖSTAT Classification) : 305902, 504013, 504014
Research Focus
Including gender medicine in all curricula of human medicine, dental medicine, molecular medicine, our PhD programme and all lifelong learning programmes as well as all other health professions.
Gender medicine and migration: Starting around 20 years ago with Turkish immigrants, now concluding with refugees mainly from Africa, via Brenner.
Focusing on violence and sexual abuse through anamnesis and investigation.
General Facts
The Gender Medicine Unit includes a women's health clinic that focuses on all women's health issues. It is a routing station within the university clinics and has a special focus on migrant women. The women's health clinic comprises an outpatient department and an in-patient ward as well as undertaking a great amount of activity outside the hospital, such as in outpatient clinics and talks for women's organisations.
In addition to the women's health clinic, there is also a research institute. One main focus here is on the inclusion of gender medicine in the curricula of all health professions. At the Medical University of Innsbruck, we provide courses in human medicine, dental medicine and molecular medicine.
Research

The aim of our institute is to include gender medicine and diversity in all curricula and lifelong learning programmes and thus also in our research programmes.
We began at the Medical University but our aim is to include gender medicine in the curricula of all health professions; for example, we also teach at Fachhochschule Gesundheit (for midwives and all technical-medical professions) and at the school of nurses (AZW). In this context, we also conduct research into the attitudes of medical students towards gender and gender medicine. We have studied medical students as well as students from related health professions in respect of gender sensitivity in medicine.
Our research work also focuses on migration. We conduct many surveys with our migrant, mainly Turkish medical students and with our Turkish patients.
Another of our focuses is on sex and violence. We prepared a paper on recording the history of our patients, approved by the ethical commission, for our patients and the midwives at the women's health clinic. The aim is to implement the findings of our paper in everyday clinical practice.
Furthermore, we study women's careers in medicine. In this context, we have focused on a number of issues, such as work-life balance and social and gender inequality but also on the challenge of working in a male-dominated environment. Women still face disadvantages when it comes to climbing the career ladder and achieving higher ranks in academia. At present, we are also focusing on these issues in other countries (Turkey, Israel), in order to study the differences and similarities between women's careers in medicine. We work on many women's issues and are very pleased to be involved with gender aspects on many research topics, from basic to clinical science.
Selected Publications
Selection of Funding
Collaborations
GiM Gender in Medicine, Charité, Berlin/Germany

Centre for Gender Medicine, Karolinska Institutet, Stockholm/Sweden

Department of Clinical Radiology Research Group 'Cognition and Gender, Münster/Germany

Gender Medicine Unit, Medical University of Vienna/Austria

Center Interdisziplinäre Geschlechterforschung Leopold Franzens Universität Innsbruck/Austria
Claudiana, Landesfachhochschule für Gesundheitsberufe, Bozen/Italy
FH Gesundheit, Health University of Applied Sciences Tyrol, Innsbruck/Austria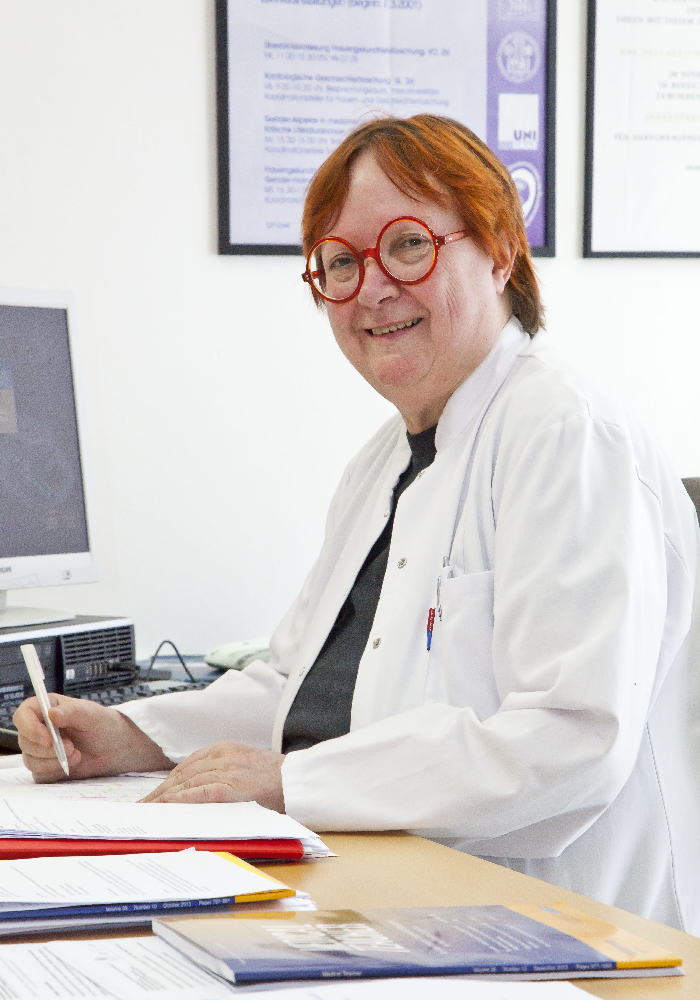 Univ.-Prof.in Dr.in med.univ. Margarethe Hochleitner
Director
Contact:
Innrain 66/1st floor
6020 Innsbruck
Austria
Email: margarethe.hochleitner@i-med.ac.at
Phone: +43 50 504 25716
Fax: +43 50 504 25719
fgz.i-med.ac.at