home>research-report>dermatologyvenereologyallergology.html Seite teilen:


Dermatology, Venerology and Allergology
Research Focus
General Facts
Research
Selected Publications
Selected Funding, Collaboration

Keywords: allergy, cancer, cell biology, dendritic cells, dermatology skin, immunology, melanoma, microbiome
Research (ÖSTAT Classification) : 302011, 301902, 301904, 302002, 302087, 302055
Research Focus
In the dermatology department, basic research and patient care are intimately interconnected. This will ultimately be advantageous to our patients, who will be able to benefit from new diagnostic and therapeutic approaches early in development. For instance, dendritic cell-based vaccination strategies against melanoma have been developed and applied. Another prominent example is the investigation of the skin barrier function and genetic skin disease in healthy and diseased skin. Additional, equally interconnected research programmes focus on the cutaneous immune system, allergies, autoimmunity, infectious diseases of the skin, HIV infection, and dermatohistopathology.
General Facts
The department is one of the oldest and internationally most renowned dermatology departments in the German-speaking countries. Approximately 3,000 inpatients and 50,000 outpatients are seen every year.
More than 2,000 skin disorders are known and every human being experiences several of them during a lifetime. Some are very common and sometimes easy to diagnose and treat. Others are complex, difficult to diagnose and hard to treat. Some are life-threatening and/or significantly impair quality of life. Our department focuses on complex dermatology and has a strong track record in translational research.
Within the main research areas of the university, the department runs research programmes in the areas of: 1) infection immunity and transplantation; 2) oncology; 3) genetics, epigenetics and genomics.
HIV patients are studied in a national OEHIVKOS cohort, which was initiated in and is run from Innsbruck and which is well connected with international registries. Novel treatments for allergies are developed within the apple care consortium (EU Interreg).

The department is certified both by Quality Austria (ISO 9001) and by OnkoZert (German Cancer Society). Research programmes are coordinated within the Austrian oncology group (ÖGDV) and the melanoma consortium MEMS (EU Interreg).

In collaboration with the Human Genetics Division, the Paediatrics Departments, the Dental Clinic and others, our department is recognised as a national centre of expertise in rare diseases. Its research focuses on discovering novel mutations in genodermatoses and on developing gene and antibody-mediated therapies.

Research

Differential Effects of Allergens and Non-Allergenic Antigens on Human Dendritic Cells
Dominik Klaver, Beate Posch, Norbert Reider, Christine Heufler-Tiefenthaler
Patients suffering from type I, IgE-mediated allergies constitute an important clientele of our department. Dendritic cells initiate and regulate virtually all immune reactions in the body, including undesired allergic hypersensitivities. It is unclear why chemically closely related molecules in the lipocalin family can be either allergenic or non-allergenic. We identified the molecular basis of the differential responses in human dendritic cells exposed to non-allergenic and allergenic lipocalins, the most frequent group of animal-derived respiratory allergens. Differential T-cell responses and broad gene expression analyses of dendritic cells identified formylpeptide receptor (FPR)3 signalling as a key mechanism for TH2-mediated allergic immune response. FPR3 and lipocalins colocalise in the same vesicles in DCs. Processed allergenic lipocalins but not non-allergenic homologues activate FPR3 signalling, which attenuates IL-12 production of dendritic cells and skews the immune response towards a TH2-mediated allergic response. The results add to our knowledge of the fundamental biology of dendritic cells and help to facilitate better understand of the development of allergies to respiratory antigens.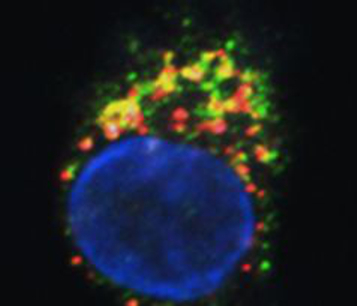 Fig. 1: FPR3 (green) and a lipocalin protein (red) colocalise in the same vesicles in dendritic cells (confocal imaging by Martin Hermann).
Apple Care
Norbert Reider and Bettina Nothegger
Most patients who are allergic to birch pollen develop allergic cross-reactions to the major allergen found in apples, Mal d1, known as pollen-related food allergy (prFA). This is due to a strong, clinically relevant homology between the major allergen in birch, Bet v 1, and Mal d 1. Daily apple consumption induces oral tolerance in prFA but its effect on inhalational allergy has not been investigated. As continuous apple consumption might also mitigate the inhalational allergy, this study aimed to uncover apple cultivars that are suitable for the treatment of birch pollen rhinoconjunctivitis and apple allergy in a controlled and established dosage. From this testing, we provide a ranking of all 23 cultivars. Skin reactivity increased from flesh to peel to stalk, and SPT results were able to predict the severity of prFA for each allergenicity class. We are currently developing a treatment protocol for allergen immunotherapy to birch pollen and prFA with daily apple consumption.
Immunosurveillance of Skin Cancer by Dendritic Cells – Potential Application for Immunotherapy
Patrizia Stoitzner, Daniela Ortner-Tobider, Christoph Tripp, Athanasios Seretis, Florian Hornsteiner, Claudia Zelle-Rieser, Nikolaus Romani
Dendritic cells (DCs) act as sentinels of the skin immune system and initiate humoral and cellular immunity. This unique ability renders them optimal targets for cancer immunotherapy. Indeed, DC-based immunotherapy has proven its potential to prime T-cell responses against tumours but clinical responses are insufficient. To improve DC-based immunotherapy, we need to understand how skin DCs are affected by tumour development. We are specifically interested in understanding the effects of altered metabolism and infiltration of suppressive immune cells on DC function. With the help of mouse models for melanoma and non-melanoma skin cancer, we investigate skin DC subsets in tumours both phenotypically and functionally by means of flow cytometry, immunofluorescent microscopy and immunoassays. With this knowledge, we can further develop skin immunisation strategies for the treatment of cancer. At present, we are working on targeting antigens to skin DC subsets with the help of antibodies against DEC-205 and langerin in mouse models and human skin explant cultures. Moreover, we are also testing a novel Langerhans cell-based immunotherapeutic approach using nanoparticles coated with a specific langerin ligand. As the future of cancer therapy lies in combination therapy, we are evaluating the potential of using DC-based immunotherapy together with checkpoint blockade antibodies and BRAF/MEK-inhibitor therapy. The overall aim is to evaluate whether DC-based skin immunisation approaches can advance existing therapeutic strategies.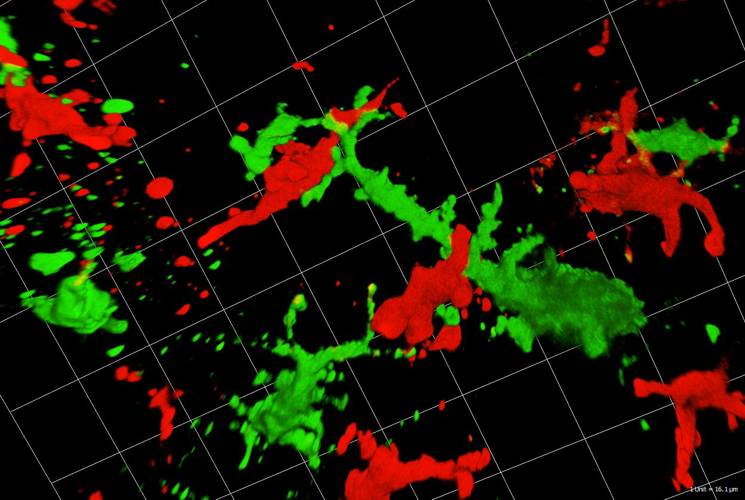 Fig. 2: Langerhans cells (green) interact with T-cells (red) in skin cancer (confocal imaging by Martin Hermann).
Atopic Dermatitis
Sandrine Dubrac, Deborah Minzaghi, Petra Pavel, Verena Moosbrugger-Martinz
Atopic dermatitis is a common inflammatory skin disease characterised by Th2 inflammation over dry skin. Epidermal barrier impairment is considered to be the pathological cornerstone and precedes the development of immune hyperresponsiveness in atopic dermatitis. For our research, which is dedicated to lipid and energy metabolism in the skin, skin microbiome and skin immunology, we have established high-quality 3D organotypic cultures generated with patients' keratinocytes. We have demonstrated that Langerhans cells are key players in the development of atopic dermatitis and that regulatory T-cells dedifferentiate into Th2-like cells in this pathology. Moreover, our recent research has broken through the paradigm that all patients with atopic dermatitis are superinfected with staphylococcus aureus. Indeed staphylococcus epidermidis and hominis predominate in patients with low to moderate disease. We also show that patients with Netherton syndrome exhibit a specific bacterial and fungal skin landscape. Furthermore, we were the first to decipher the role of the pregnane x receptor (PXR) in the skin by generating transgenic mice that overexpress the constitutively activated human PXR. The PXR is a master transcription factor that controls xenobiotic metabolism. Interestingly, the PXR transgenic mice develop atopic dermatitis-like symptoms.


Fig. 3: Organotypic 3D epidermal cultures were stained with H&E (left panel) or corneodesmosin (green, right panel). Immunofluorescence staining was visualised by confocal microscopy.
Gene Therapy
Thomas Trafoier, Julia Reichelt, Matthias Schmuth, Christina Heufler-Tiefenthaler
The goal of this project is to correct keratin filament fragility by means of gene editing approaches (CRISP/Cas9), to ameliorate disorders of cornification.
Epidermolytic palmoplantar keratoderma (EPPK) is a rare, autosomal dominant, inherited skin disorder that is characterised by increased thickness of the epidermis on the palms and soles. The disease is mostly caused by point mutations in the keratin 9 gene (KRT9) coding for the type I intermediate filament protein keratin 9 (K9), the expression of which is confined to the suprabasal layers of the palmoplantar epidermis. Integration of mutant K9 into the intermediate filament cytoskeleton reduces its stability, which results in collapse and the formation of aggregates upon stress. The cytoskeletal fragility results in massive thickening of the skin, which is prone to develop fissures and infections. The aim of this project is to correct the intermediate filament fragility in EPPK patient-derived keratinocyte (KC) cultures by means of CRISPR/Cas9-mediated deletion of the mutant, disease-causing allele whilst leaving the wild-type allele intact. We targeted a gRNA pair complex to Cas9 nickase in primary, patient-derived KCs and we grew single clones from the transfected bulk population. Genetic characterisation of these clones revealed a collection of clones with the wild-type allele intact and the mutated allele truncated. We are now aiming for functional evaluation of these clones by analysing them under stress conditions for K9 expression and K9 conformation, to assess expected beneficial effects of the gene editing.
Epidermal Homeostasis and Genetic Skin Disease
Robert Gruber, Stefan Blunder, Matthias Schmuth
This research group focuses on the regulation of homeostasis and skin barrier function, as exemplified in rare ichthyoses as a result of defined gene mutation.
Cutaneous Immune System, Autoimmunity
Barbara Böckle, Gudrun Ratzinger
This group has established a registry of autoimmune skin disorders. Clinical and immune parameters are included with information about response to therapy and they therefore provide a rich scientific resource to address questions both of disease mechanisms and of therapeutic strategies.
Infectious Diseases of the Skin
Robert Zangerle, Mario Sarcletti, Martin Gisinger, Maria Kitchen-Hosp
This programme addresses questions of HIV epidemiology and response to therapy using the national OEHIVKOS cohort, which is linked to international collaborative efforts, e.g. the Antiretroviral Therapy Cohort Collaboration (ART-CC), the Collaboration of Observational HIV Epidemiological Research Europe (COHERE) in EuroCoord, the CASCADE Collaboration in EuroCoord, and EuroSIDA in EuroCoord.
Photomedicine
Gudrun Ratzinger
This programme addresses the effects of UV irradiation as a causative factor in photodermatoses as well as the therapeutic effects of UV irradiation on common inflammatory skin diseases and skin cancer. Additionally, we participate in the Austrian Psoriasis Registry (PsoRA), in order to gain clinical and epidemiological data.
Dermatohistopathology
Bernhard Zelger
Dermatohistopathology research in Innsbruck is renowned for the innovative concepts that describe a variety of morphological discoveries in skin disorders, including soft tissue tumours and cutaneous vasculitis.
Clinical Trials
Norbert Reider, Gudrun Ratzinger, Mario Sarcletti, Van Anh Nguyen, Georg Weinlich, Matthias Schmuth
The department's clinical trial unit conducts numerous phase I – III clinical trials on chronic inflammatory skin disease (psoriasis), allergies, skin cancer (principally melanoma), HIV and genetic skin diseases.
Selected Publications
Bellmann L, Zelle-Rieser C, Milne P, Resteu A, Tripp CH, Hermann-Kleiter N, Zaderer V, Wilflingseder D, Hörtnagl P, Theochari M, Schulze J, Rentzsch M, Del Frari B, Collin M, Rademacher C, Romani N, Stoitzner P.: Notch-Mediated Generation of Monocyte-Derived Langerhans Cells: Phenotype and Function. J INVEST DERMATOL S0022-202X(20)31663-8, 2020
Ratzinger G, Zelger BG, Zelger BW.: Bar code reader - an algorithmic approach to cutaneous occluding vasculopathies? Part I: small vessel vasculopathies. J DTSCH DERMATOL GES, 17:895-904, 2019
Klaver D, Posch B, Geisler A, Hermann M, Reider N, Heufler C.: Peptides from allergenic lipocalins bind to formyl peptide receptor 3 in human dendritic cells to mediate TH2 immunity. J ALLERGY CLIN IMMUNOL, 145:654-665, 2020
Borena W, Kruis S, Kitchen M, Taylor N, Gisinger M, Oberkofler H, Stoiber H, Zangerle R, von Laer D, Sarcletti M.: Anal Ureaplasma spp. positivity among HIV positive men who have sex with men may be associated with high-risk-type HPV infections. INT J INFECT DIS, 84:75-79, 2019.
Selection of Funding
FWF project 33855 to Patrizia Stoitzner: Krebsimmuntherapie mit Langerin-Ligand Liposomen. 2020 - 2023
FWF project I 4229-B to Matthias Schmuth: Biomol. Analysen und personalisierte Therapie der Acne inversa. 2019 -2022
FWF project 31662 to Sandrine Dubrac: Mitochondrien § Peroxisomen: therapeutische Targets in AD. 2018 – 2021
Collaborations
Universitäts Hautklinik, Wien (Profs. Georg Stingl, Adelheid Elbe-Bürger, Erwin Tschachler)
Universitäts Hautklinik, Erlangen (Prof. Gerold Schuler)
Laboratory of Cellular Physiology & Immunology, The Rockefeller University, NY (Prof. Michel Nussenzweig)
Stanford University (Assoc. Prof.Juliana Idoyaga)
The Malaghan Institute for Medical Research, Wellington, NZ (Prof.Franca Ronchese)
Johannes Gutenberg Uni­versität Mainz (Prof.Björn Clausen)
University of California at San Francisco (Profs.Peter Elias, Ken Feingold)
Université de Strasbourg, Frankreich (Dr.Vincent Flacher)
Universität Zürich, Schweiz (Prof.Christian Münz)
Max Planck Institute of Colloids and Interfaces, Potsdam (Dr. Christoph Rademacher)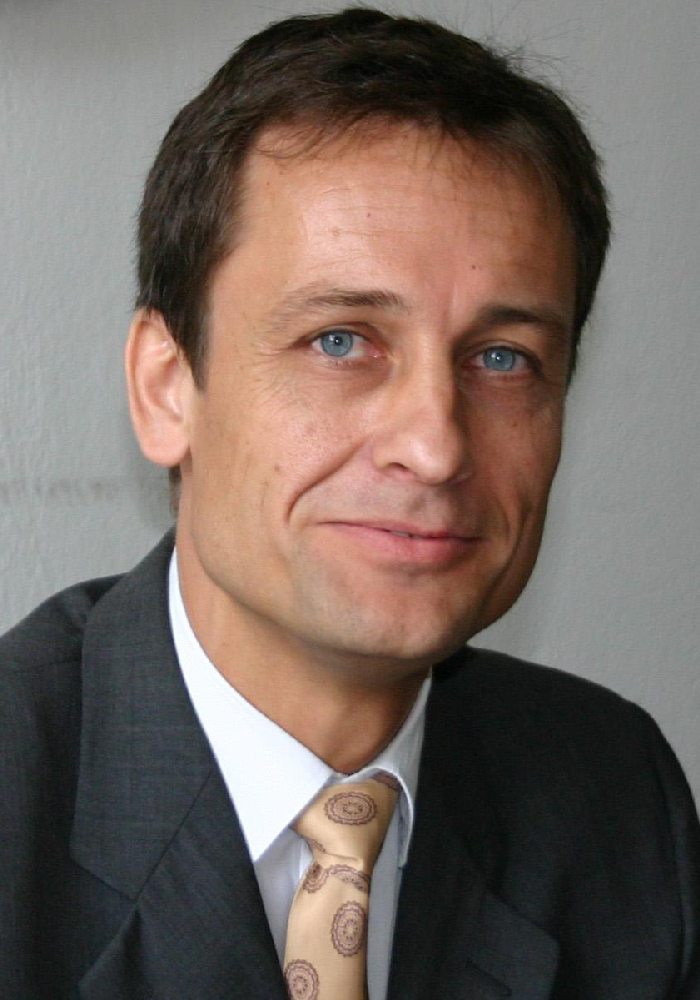 Univ.-Prof. Dr.med.univ. Matthias Schmuth
Director
Contact:
Anichstraße 35
6020 Innsbruck
Austria
Email: matthias.schmuth@i-med.ac.at
Phone: +43 50 504 24801
Fax: +43 50 504 23002
dermatologie.tirol-kliniken.at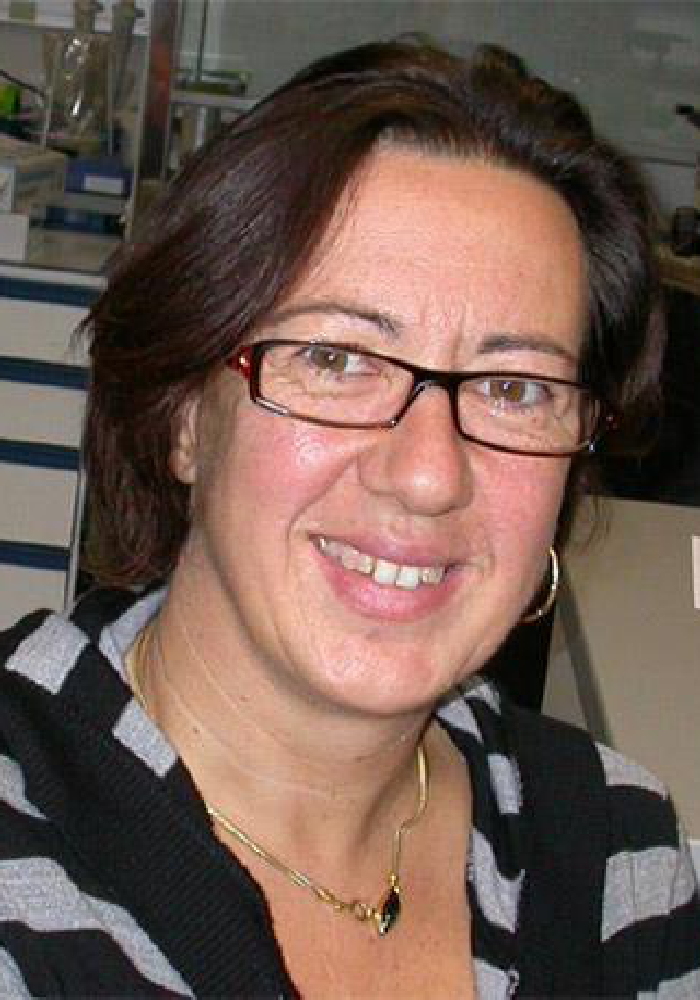 ao.Univ.-Prof. Dr.phil. Christina Heufler-Tiefenthaler
Head of Research Laboratory
Contact:
Anichstraße 35
6020 Innsbruck
Austria
Email: christina.heufler@i-med.ac.at
Phone: +43 50 504 23043
Fax: +43 50 504 23002
dermatologie.tirol-kliniken.at