home>research-report>craniooralsurgery.html Seite teilen:


Cranio-maxillofacial and Oral Surgery
Research Focus
General Facts
Research
Selected Publications
Selected Funding, Collaboration
Devices & Services

Keywords: Reconstructive Microsurgery, Oncolytic Virotherapy, Implants, Biological Surfaces, Osseointegration, TMJ Surgery, Tissue Engineering, Nano Technology, MRONJ
Research (ÖSTAT Classification) : 3302010, 302029, 302033, 301904, 304007
Research Focus
Innovative multimodal cancer treatment, oncolytic virotherapy, quality of life in cancer patients, reversing impaired healing of bone through the use of immobilised plasmids (DNA, RNA) of growth factors on nanostructured implant surfaces, acceleration of bone regeneration by induction of angiogenesis in vivo, MRONJ: multiple approaches to analys- pathogenesis and new ways to improve the healing of jaw bone lesions, and minimally invasive TMJ -surgery with regenerative agents.
General Facts

The major focus of the Department of Cranio-Maxillofacial and Oral Surgery (OMFS) at the Medical University of Innsbruck is on reconstructive surgery after resection of oro-facial cancer (HNSCC), bone necrosis or severe bone inflammation. Whilst reconstructive facial surgery is one focus of the department of OMFS after ablative tumour surgery or resection of osteonecrotic and infected bone, microvascular anastomosis is used for free tissue transplants for the rehabilitation of function and facial appearance. Research is focused on the development of virtually planned transplants adapted to defect size, for replacement of the resected tissue, as well as on minimally invasive or artificial transplants. In addition, various studies are currently ongoing in the field of quality of life. Thanks to its longlasting experience in the field, the department of OMFS is involved with many clinical- and research collaborations with other universities, such as like the universities of Hamburg and Munich.
In the research field of facial trauma the focus is on special trauma surgery of the TMJ and orbit, using of navigation.
In addition, the department of OMFS is-specialises in reconstructive and minimally invasive TMJ surgery supported by regenerative agents. A further focus is set on syndromic and non-syndromic cranio-facial deformities.
Research activities take place primarily in the four main fields of the department: innovative therapeutic concepts in head and neck tumours. Oncolytic virotherapy is a promising treatment option in head and neck tumours, for which a special research professorship has been set up and previously unused laboratories have been fully refurbished and upgraded to S2 level. Bone research has changed from the previous way method, based on local growth factor delivery, to different plasmids on the level of DNA and RNA, and through angiogenic promotion of newly formed bone. Different methods of open and minimally invasive TMJ surgery are assessed with respect to healing and functional rehabilitation. The patients' collective with the fastest growing incidence is in the field of medication-related-osteonecrosis of the jaw (MRONJ). Many projects and clinical trials, including multicentre studies, are therefore ongoing in this field. The various analyses are concentrating on the improvement of exposed tissue regeneration and on the pathogenesis of MRONJ. Trials clinical and laboratory level are supported by grants from the state of Tyrol and from AMGEN.
Research

Innovative Treatment Concepts in Head and Neck Tumours
Holm, Kolk
The entry of oncolytic viruses into tumour therapy is opening up groundbreaking changes in current and future treatment regimens. Despite this powerful mode of action against cancer, clinical studies have shown reduced replication of OVs in target cancer cells and subsequently limited efficacy as monotherapy. However, the good combinability of OVs with other interventions has the capacity to counteract this drawback without increasing toxicity. The development of effective combinatorial treatment strategies is therefore expected to be one of the keys to success, in establishing OVs in future clinical routine treatment regimens. In addition, it has been discovered that the overall anti-tumour activity of oncolytic viruses relies not only on their direct killing effects on local cancer cells, but also on the initiation of a systemic immune response. The capacity of oncolytic viruses to kill cancer cells and thus to activate anti-tumour immunity therefore makes a combination approach with existing immune therapies, e.g. immune checkpoint inhibitors, very exciting.
After taking this into account, we have established a new research unit in the department in summer 2020. The head of the new MKG research- unit is Univ.-Prof. Holm, an internationally recognised expert in the field of virotherapy. A level S2 safety laboratory was opened for this, with official governmental authorisation in 2020.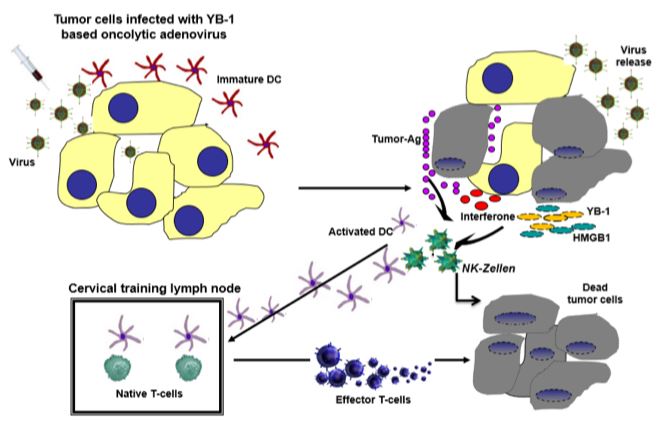 Fig. 1: Schematic representation of the mechanism underlying the induction of a specific anti-immune response using YB-1-based virotherapy. Oncolytic YB-1-based adenoviruses are injected directly into the tumour and cause tumour cell death, releasing endogenous tumour antigens, inflammatory cytokines including type-1 interferon, and danger signals, including HMGB1. Once released from dying tumour cells, HMGB1 contributes to DC maturation by binding to TLR2/4 on DCs and initiating an immune response through processing and presentation of tumour-derived antigens. The DCs loaded with tumour antigens migrate to the cervical draining lymph nodes, where they contribute to a systemic immune response by cross-presentation of tumour antigens to naïve T-cells, causing clonal expansion of tumour-specific effector T-cells.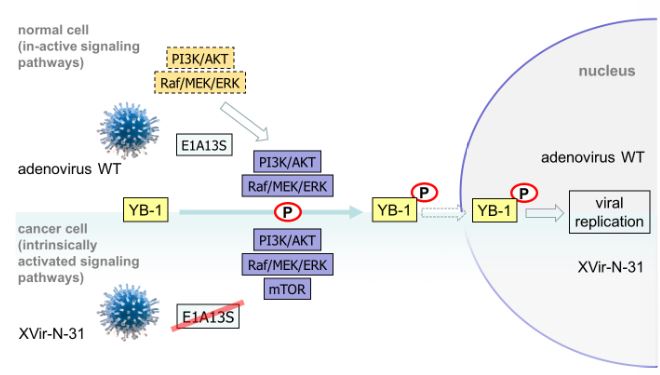 Fig. 2: Schematic representation of the selective function of oncolytic virus XVir-N-31: the virus replicates specifically in tumour cells, but not in normal cells.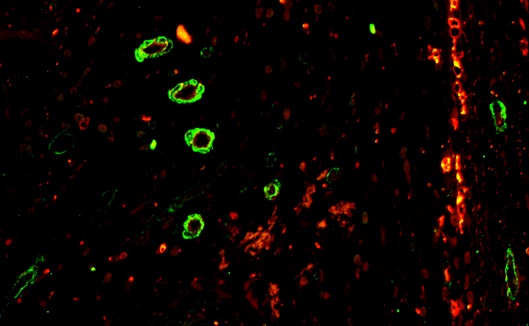 Fig. 3: Double immunofluorescence staining of αSMA + pericytes (green) and CD31 + endothelial cells in the tumour margin after treatment with oncolytic virotherapy.
Bioactive Surfaces in Cranio-Maxillofacial and Oral Surgery
Kolk, Bissinger
Implants have revolutionised patient care in all fields of medicine and dentistry. Titanium has evolved as the leading raw material, where the treatment of bone and cartilage diseases-/-degeneration and tooth loss necessitates osseointegration of individualised tissue replacement options. This is mainly due to its bio-inert properties. Titanium implants in particular provide excellent results in healthy young and adult patients but the success rate of any implant is hampered if the implant site suffers from poor bone wound healing. Because of conditions that affect bone turnover and homeostasis, such as osteoporosis, age, radiation therapy, bisphosphonate intake, infection, severe trauma or other pathology-related bone changes, osseous healing at the implant site is frequently limited. To overcome shortcomings in bone healing and osseointegration, we used bioactive BMP-2 delivered from various coatings, such as nano-crystalline- or PDLLA- coated implants based on nanotechnology and physisorption. Furthermore, various plasmids of BMP-2, including the RNA as the copy of the DNA, have been used as an alternative bioactive coating, an approach that has already been patented and tested in humans with respect to safety concerns. A stabilised non-immunogenic messenger RNA has been developed following the therapeutic principle of replacement of the missing transcript. The advantage of the non-immunogenic messenger RNA is the option of repeated administration. This technique allows a broad range of applications from inherited diseases to regenerative medicine. Compared with the recombinant growth factor itself, the immunogenic activity of the RNA is reduced by a rate >90%.
A further field focuses on bioactive scaffolds coated with a novel, transfection-effective but also low-toxicity gene vector complex, to allow spatio-temporal bone regeneration. A custom-fit polycaprolactone scaffold is coated with a novel polymer- based therapy (enabled by RAFT polymerisation) (carrier: gelatine) and will be used to heal critically- sized -defects in the rat mandible.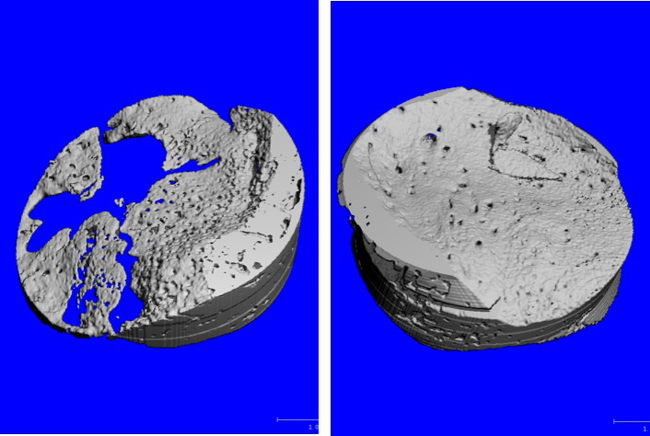 Fig. 4: Micro-CT imaging of mandibular critically sized defects after application of adipocyte- derived stem cells alone (left) versus adipocyte-derived stem cells plus RNA of BMP-2 after 56 days.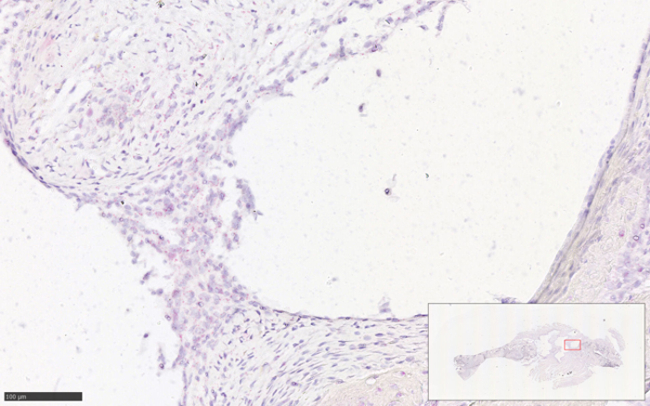 Fig. 5: In situ hybridisation (ISH) for visualisation of single RNA molecules per cell in the tissue around a polycaprolactone scaffold coated with a novel polymer -based therapy.
MRONJ-Associated Research
Laimer
Medication-related osteonecrosis of the jaw (MRONJ) is a potentially severe drug side effect of mainly antiresorptive agents. Key features of this condition include areas of exposed necrotic jawbone, to varying extents. This disease is typically seen in patients suffering from osteoporosis or malignant tumours with bone metastases. Bisphosphonates and the monoclonal antibody Denosumab represent the principle causative drugs. In addition, there are reports that other drugs used for the treatment of cancer (e.g. antiangiogenic agents or tyrosine kinase inhibitors) can also cause MRONJ. With regard to the rapidly increasing incidence of MRONJ in the catchment area of the university hospital, and in respect of the challenges of successful surgical treatment, MRONJ has become one of the major focuses of our research.
As well as retrospective studies to evaluate factors with a direct influence on surgical outcomes, we are currently running multicentre projects together with other departments and hospitals. For example a -multicentre study involving several hospitals in Tyrol has been initiated, to evaluate both the incidence and cofactors with a potential influence on the development of MRONJ.
In a prospective clinical study, the influence of malnutrition and its treatment will be evaluated in the course of MRONJ. In addition, the quality of life of this highly vulnerable patient collective will be assessed. For the management of complex wounds, vacuum-assisted closure (VAC) therapy has shown beneficial effects for various indications and surgical disciplines. In our department, we have been able to develop a system (patent pending) that allows intraoral application of VAC therapy. As the exact pathophysiology of MRONJ has not yet been fully elucidated, we are currently studying in- cell culture models of how phytotherapeutic agents and other drugs with an inhibitory effect on the NFkB pathway can inhibit the differentiation of osteoclasts, which may contribute to the development of MRONJ. This project is being conducted in cooperation with the laboratory for experimental urology and it is supported by a TWF grant.
Our research projects are supported by the federal county of Tyrol, biotech company Amgen, and the companies Fresenius Kabi and Lohmann & Rauscher.
Efficacy of Arthroscopy with Platelet-Rich Plasma Versus Arthroscopy Alone in Temporomandibular Joint Arthritis: A Randomised Controlled Trial
Hupp, Kolk
Patients with craniomandibular dysfunction (CMD) with a predominantly arthrogenic pain and an impaired functional component can benefit from a number of minimally invasive surgical approaches after previously unsuccessful, conservative treatment. The aim of various ongoing studies in the department is to evaluate the spectrum of minimally invasive surgical procedures in the treatment of temporomandibular joint (TMJ) disorders. Patients are allocated to treatment arms by means of a software randomisation program and blinded to the application of the IMP (single-blind study). Within a superior joint space arthroscopy, the patients in the experimental group receive an injection of 2-ml PRP (IMP) versus lactated Ringer's solution (placebo, control) under direct visualisation in  the superior joint space, arthroscopic lavage of the latter. The endpoint is the pain-free time after application and the level of pain- free TMJ-mobility. The second clinical trial is currently ongoing, going to evaluate the impact of orthognathic surgery on the TMJ. A further clinical study is analysing different approaches to the TMJ in terms of functional outcome.
The Detection of SARS-CoV-2 in Saliva and the Role of Oral Hygiene in Intraoral Virus Persistence
Bissinger
This study revealed the detection of SARS-CoV-19 in saliva and the effect of intensive oral hygiene on the infectivity of the virus. Patients with COVID-19 infection were examined. Saliva samples were taken from patients over 24 hours. To emphasise the advantages of saliva samples, this diagnostic method was compared with throat swabs. Helpful recommendations for action can be derived from this, in order to achieve a faster and more effective method of large-scale diagnosis. The study may help to reduce the risk of transmission of the virus through contact, on the basis of intensive oral hygiene.
Quality of Life in Young Tumour Patients
Bissinger
Analyses have shown a disproportionatel increase in HNSCC incidence and a naturally limited prognosis in younger patients (< 45 years old). Studies suggest potential survival benefits from improvements in QoL. Health-related QoL in young patients is therefore being evaluated, in order to pinpoint those patients who are struggling with their surgical outcome and need more psychological support.
Selected Publications
The effect of orthognathic surgery on TMJ function and symptoms. What are the risk factors? A longitudinal analysis of 375 patients.
Ploder O, Sigron G, Adekunle A, Burger-Krebes L, Haller B, Kolk A.

J Oral Maxillofac Surg. 2020 Nov.

, 1-11.
Should Osteosynthesis Material in Cranio-Maxillofacial Trauma be Removed or Left In Situ? A Complication-associated ConsiderationPage 213-220
Kolk, A in: © 2020 Complications in Cranio-Maxillofacial and Oral Surgery Herausgeber: Gassner, Robert (Ed.), Springer-Verlag


Hyperspectral imaging as a diagnostic tool to differentiate between amalgam tattoos and other dark pigmented intraoral lesions".                    
Laimer J, Bruckmoser E, Helten T, Kofler B, Zelger B, Brunner A, Zelger B, Huck CW, Tappert M, Rogge D, Schirmer M, Pallua JD. J Biophotonics 2020 Nov 18;
Cervical Lymph Node Metastases in Oral Squamous Cell Carcinoma-How Much Imaging Do We Need?
Laimer J, Lauinger A, Steinmassl O, Offermanns V, Grams AE, Zelger B, Bruckmoser E. Diagnostics (Basel). 2020 Apr 2;10(4):199.
Profiling of Mitochondrial DNA Heteroplasmy in a Prospective Oral Squamous Cell Carcinoma Study.
Fendt L, Fazzini F, Weissensteiner H, Bruckmoser E, Schönherr S, Schäfer G, Losso JL, Streiter GA, Lamina C, Rasse M, Klocker H, Kofler B, Kloss-Brandstätter A, Huck CW, Kronenberg F, Laimer J. Cancers (Basel). 2020 Jul 17;12(7):1933.
Pre-operative cellular dissociation grading in biopsies is highly predictive of post-operative tumour stage and patient outcome in head and neck squamous cell carcinoma.
Jesinghaus M, Steiger K, Stögbauer F, Haller B, Kolk A

, Straßen U, Pickhard A, Wirth M, Silva M, Budczies J, Becker von Rose A, Konukiewitz B, Kuhn P, Klinghammer K, Dapper H, Münch S, Combs SE, Weichert W, Boxberg M.

Br J Cancer. 2020 Mar;122(6):835-846.




Selection of Funding
Collaborations
Department of Urology, Klinikum rechts der Isar, Technical University of Munich, Munich
Department of Oral- and Maxillofacial Surgery, Klinikum rechts der Isar, Technical University of Munich, Munich
Department of Oral and Maxillofacial Surgery, University Medical Center Hamburg- Eppendorf, UKE Martinistraße 52, 20246 Hamburg Germany
Devices & Services
A safety lab on S2 level became operational by official governmental authorization in 2020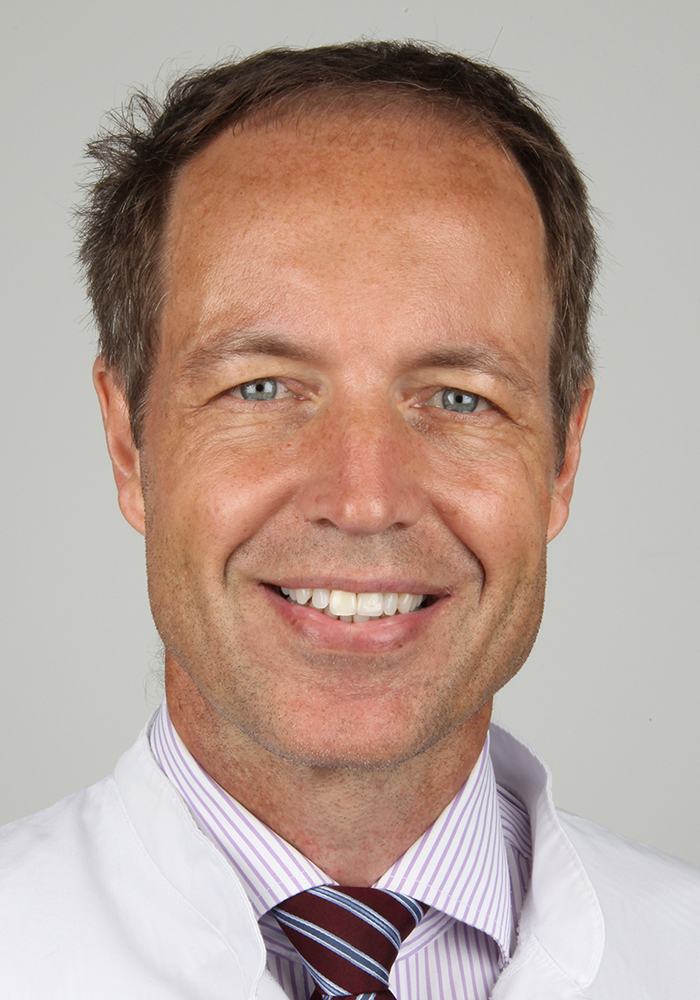 Univ.-Prof. Dr.med Dr.med.dent. Andreas Kolk, MHBA
Director
Contact:
Mund-, Kiefer- und Gesichtschirurgie
Anichstraße 35, MZA
6020 Innsbruck
Austria
Email: andreas.kolk@i-med.ac.at  
Phone: +43 512 504 24373
Fax: +43 512 504 24371
www.zmk-innsbruck.at/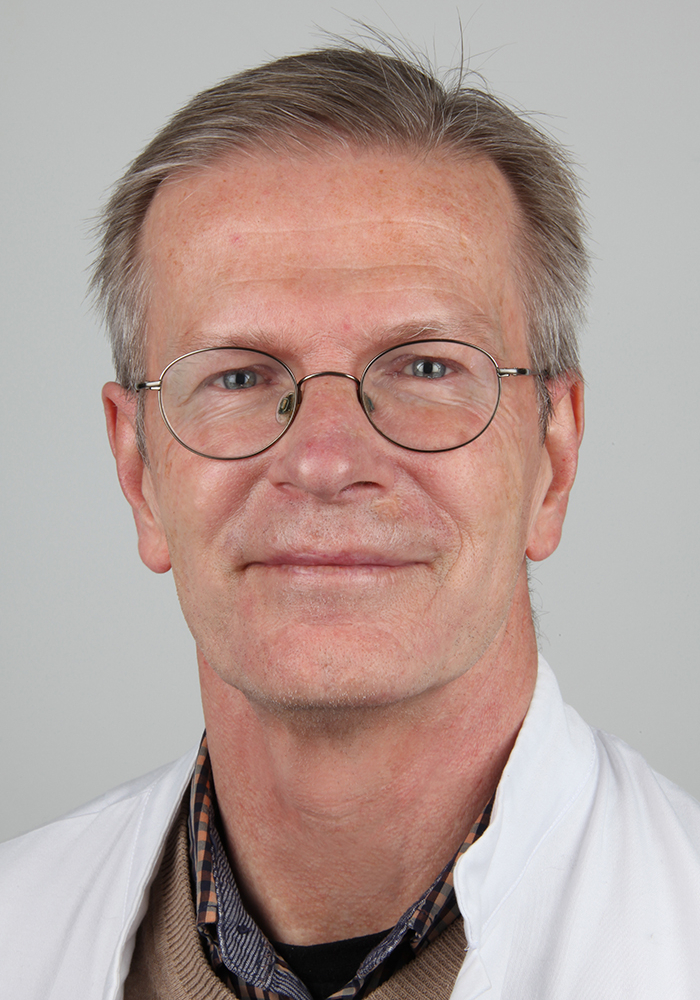 Univ.-Prof. Dr. Per Sonne Holm
Research Director
Contact:
Anichstraße 35, MZA
6020 Innsbruck
Austria
Email: Per-Sonne.Holm@i-med.ac.at
Phone: +43 512 504 24390
www.zmk-innsbruck.at/