home>research-report>plasticreconstructiveaestheticsurgery.html Seite teilen:


Plastic, Reconstructive and Aesthetic Surgery
Research Focus
General Facts
Research
Selected Publications
Selected Funding, Collaboration

Keywords: wound healing, fat tissue, adipose derived stem cells, immune cells, implants, fibrosis, congenital deformities, thoracic wall deformities, cytokines
Research (ÖSTAT Classification) : 106018, 106039, 302062
Research Focus
General Facts

Research in the Department of Plastic, Reconstructive and Aesthetic Surgery focuses on translational research, addressing immunological and physiological clinical challenges with state-of-the-art basic molecular techniques. The on-site laboratory headed by C. Ploner continuously supports research projects of our clinical department units, i.e. the units of breast/limb/nerve surgery and congenital deformities (reconstructive surgery and wound management/healing), and it mentors masters' as well as PhD student projects in the course of the "Applied Morphology and Regeneration" clinical PhD programme.
More than 20,000 patient contacts and about 4,000 surgical interventions per year are managed by our department; impaired healing of complex, chronic wounds is one of the most frequent diagnoses here. Our major aims therefore include molecular understanding of the healing process of chronic wounds and development of new therapies to improve healing and patient quality of life. Tissue reconstruction techniques following tumour resection or traumatic insults and plastic surgery for congenital disorders represent the other research areas of our department. Surgical techniques and the determination of implant immune biocompatibility form a focus of the clinical research groups here.
Research
Three research groups are currently active in the Department of Plastic, Reconstructive and Aesthetic Surgery.
The Impact of Fat Tissue on Wound Healing
Ploner
Despite great advances in skin tissue engineering, impaired wound healing remains one of the most serious problems in plastic surgery. Our primary interest lies in defining mechanisms of (chronic) wound healing and especially delineating the role of fat tissue and its potential regenerative cells in this complex cellular interplay. To date, we have identified adipocytes as an integral part of the remodelling of human granulation tissue and we have identified distinct macrophage polarisation as a promoter of adipocyte differentiation. Data suggest that IFNG/LPS-stimulated macrophages attenuate adipocyte differentiation, whereas IL4/IL13 stimulation on macrophages exerts only a moderate influence on adipogenesis. Corresponding effects were observed in undifferentiated adipose-derived stem cells (ASC), favouring ASC-to-myofibroblast differentiation over proliferation. Future (clinical) studies will evaluate the efficacy of autologous fat grafting as an alternative therapy for chronic wounds.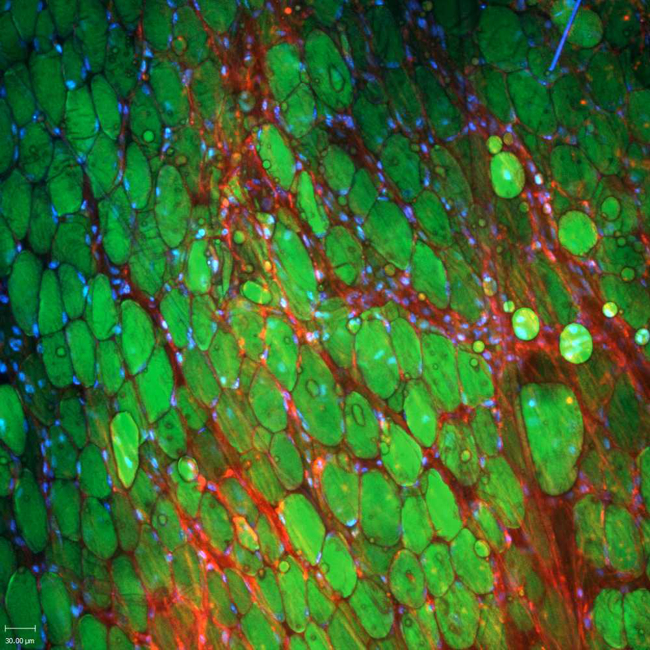 Fig. 1: Intravital Microscopy of Human Fat Tissue. Live tissue staining of human subcutaneous fat tissue using confocal microscopy [in cooperation with M. Hermann (Department of Anaesthesiology and Critical Care Medicine, Medical University of Innsbruck)]. Adipocytes were stained with BODIPY 493 (green), nuclei with Hoechst 33342(blue), and cell-membranes (glycoproteins) with wheat germ agglutinin Alexa Fluor 647 (red).
Aesthetic and Reconstructive Breast Surgery
Bauer, Wolfram
Our team focuses on experimental research, investigating the immune biocompatibility of different expander surfaces in women undergoing prophylactic mastectomy because of a high familial risk of breast cancer. After implantation of these surfaces, we analyse the immediate immune response in wound bed fluids and we identify fibrotic tissue development within the capsular tissue 6 – 8 months after expander implantation. At the same time, we are also interested in clinical outcome studies, in both the reconstructive and the aesthetic setting. We analyse aesthetic outcome as well as patient satisfaction after autologous breast reconstruction with the PAP (profunda artery perforator) flap and compare these data with our results after DIEP breast reconstruction. Long-term outcome analyses are important for quality control. Moreover, we expect to demonstrate clear differences in respect of patient evaluation versus surgeon evaluation.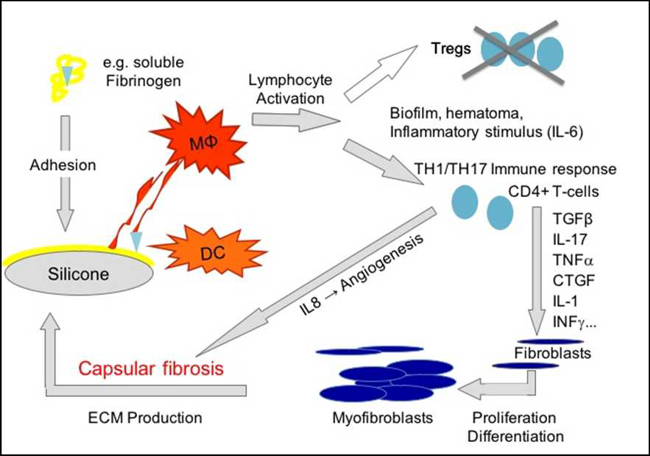 Fig. 2: The Peri-SMI Fibrotic Process. Serum and wound bed fluid proteins adhere to the SMI surface and act as (auto)antigens, triggering a proinflammatory and profibrotic cascade of events. The quantitative and functional deficiency of Tregs and the resistance of effector T-cells to immunoregulation allow exacerbation of this process.
Cardiopulmonary Function after Chest Wall Deformity Surgery
Del Frari, Schwabegger
Pectus excavatum (PE) and carinatum (PC) are the most common types of congenital anterior chest wall deformity. These deformities often present not only as an aesthetic disturbance but also in association with obstructive pulmonary mechanics. Cardiopulmonary function following PE/PC surgery has been investigated with conflicting results. The aims of our prospective study were therefore: 1) to evaluate the effect of PE/PC deformity and repair on cardiorespiratory function using pre and postoperative pulmonary function tests; 2) to examine the anatomical effectiveness of surgical repair using standardised helical multidetector-row computed tomography imaging (3D VR-CT scan) taken pre and postoperatively; 3) to evaluate the effect of PE/ PC and surgical repair on patient quality of life and body image. Our multi-dimensional study determined that cardiopulmonary function is not impaired by surgical treatment of PC – an important observation in the field of reconstructive surgery. Regarding the effect of PE correction on cardiopulmonary function, this FWF-supported study has been finalised and our manuscript is ready for submission.
Selected Publications
Selection of Funding
Collaborations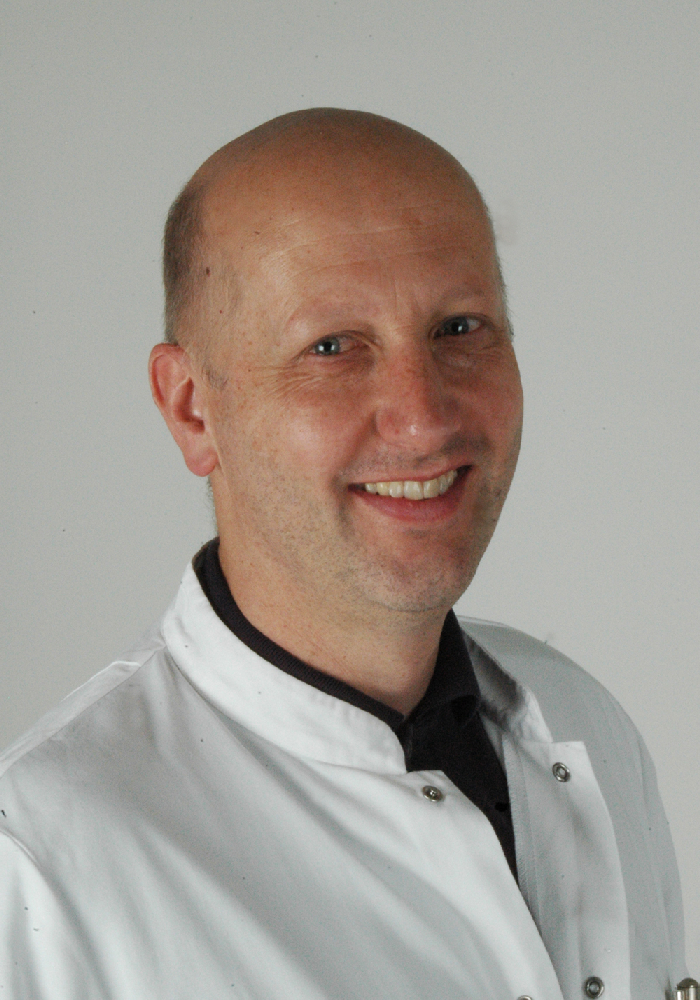 Univ.-Prof. Dr. med. univ. Gerhard Pierer
Director
Contact:
Anichstraße 35
6020 Innsbruck
Austria
Email: gerhard.pierer@i-med.ac.at
Phone: +43 512 504 22731
Fax: +43 512 504 22735
https://pci.tirol-kliniken.at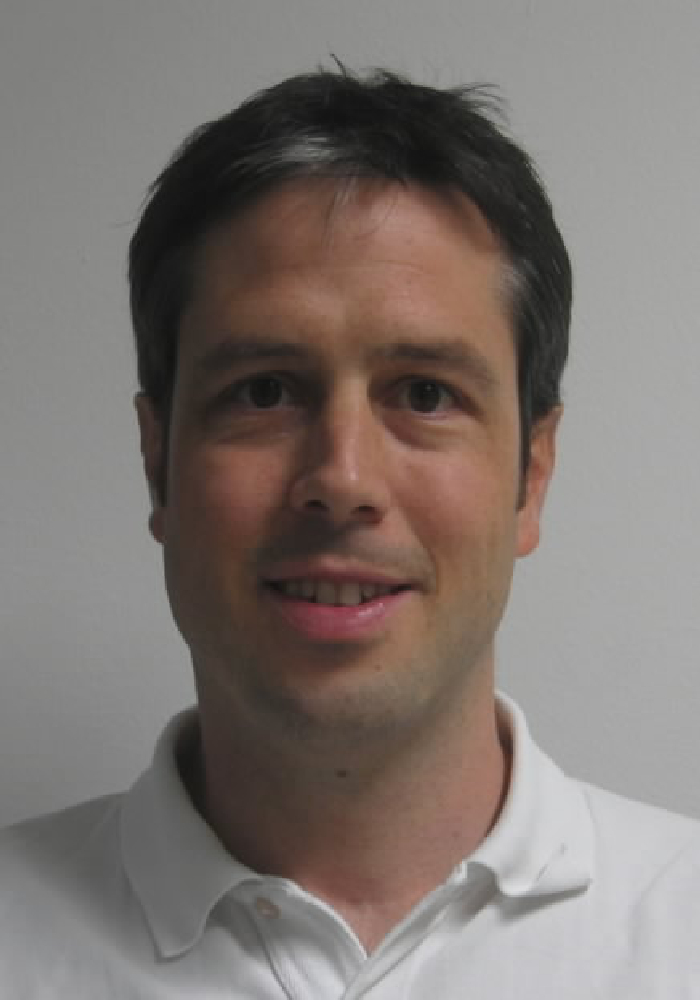 PD Christian Ploner, PhD
Head of the Research Laboratory
Contact:
Anichstraße 35
6020 Innsbruck
Austria
Email: christian.ploner@i-med.ac.at
Phone: +43 512 504 82648
Fax: +43 512 504 22735
https://pci.tirol-kliniken.at