home>research-report>paediatrics3.html Seite teilen:


Paediatrics III
Research Focus
General Facts
Research
Selected Publications
Selected Funding, Collaboration

Keywords: Paediatric Cardiology, Adult Congenital Heart Disease, Cystic Fibrosis, Paediatric Pulmonology, Paediatric Allergology
Research (ÖSTAT Classification): 3002002, 3002032, 302035, 302064, 302068
Research Focus
Clinical and basic research into paediatric cardiomyopathies and univentricular heart patients. Evaluation of risk factors for early vascular ageing. Clinical and basic research into mutation-specific CFTR modulator therapies in CF patients. Clinical research into the prevention of food allergies, and participation in European registry studies for primary ciliary dyskinesia and interstitial lung disease in children.
General Facts
We provide high-quality regional and transregional third-level patient care at the University Hospital of the Medical University of Innsbruck together with the regional hospitals in Tyrol: Landeskrankenhaus Innsbruck/Universitätskliniken. Patient care represents a core task alongside clinical and basic research.
Research
Metabolomics in Congenital Heart Disease
Miriam Michel

Interest has recently grown in the assessment of Fontan patient metabolism. As well as reported abnormalities in the glucose metabolism of Fontan patients, their handling of lipids is the best studied area to date, with significant changes especially in the cholesterol and lipoprotein pathways. We are investigating whether study of the metabolism of amino acids and proteins – in addition to the metabolism of glucose and lipids – could improve understanding of the mechanisms of Fontan circulation sequelae. Using a targeted metabolomics approach, we determine the serum concentrations of multiple analytes derived from the metabolism of amino acids and lipids in a homogeneous group of adult Fontan patients with good systemic function of the morphologic left ventricle of good function, good exercise capacity and no Fontan-associated liver disease or major collateral formation, in order to compare these values with those of age-matched healthy controls. By means of mass spectrometry-based assessment of amino acids we have proved that the method is appropriate and that, in comparison with controls, Fontan patients exhibit a distorted amino acid and phospholipid metabolome, which indicates altered cell signalling, energy metabolism and inflammation.
Early Vascular Ageing in Adolescents – EVA Tyrol Study
Anna Katharina Stock

Cardiovascular diseases are a major cause of morbidity and mortality in adulthood. One underlying cause is vascular ageing, which begins early in life. Risk factors for early vascular ageing are investigated, in order to identify possible targets for prevention strategies.
Heart Failure in Children
Irena Odri Komazec

PANORAMA and PANORAMA-OLE trial. Treatment of acute venous thromboembolism in children. DIVERSITY trial. Cardiomyopathy in genetic diseases – individual, targeted therapy (such as dilatative cardiomyopathy in propionic acidaemia, hypertrophic cardiomyopathy in RASopathy). Arrhythmias in children. 
Cystic Fibrosis: Early Diagnosis and Individualised Therapy
Katharina Niedermayr, Dorothea Appelt, Teresa Fuchs, Helmut Ellemunter

For the Cystic Fibrosis Centre (CFCI), longitudinal clinical research plays a crucial role in this multisystem disease. This includes early diagnosis of pulmonary changes, as lung involvement in cystic fibrosis still determines disease progression and survival probability. The goal for newly diagnosed infants is to prolong and delay disease progression through early diagnosis and therapy. In older patients with preserved lung function, innovative lung function measurements are used for early detection of disease-specific changes in the lungs or deterioration caused by them. Our research team also investigates cystic fibrosis transmembrane regulator (CFTR) modulator therapies to address the basic defect of cystic fibrosis and is involved in international multi-centre clinical trials. The research into mutation-specific therapies is dedicated to identification of the individual therapy effect by means of CFTR biomarkers. Methods include: sweat test, ICM (intestinal short circuit current) and NPD (nasal potential difference) measurements. ICM is performed in our own laboratory on biopsied rectal mucosa. This concept is an expression of the bench-to-bedside approach of the CFCI.
Translational Research Project: CFTR Function Parameters
Katharina Niedermayr, Dorothea Appelt, Teresa Fuchs, Helmut Ellemunter

Cystic Fibrosis: Nasal potential difference measurements (NPD) are taken in vivo and ex vivo on rectal mucosal biopsies, to measure CFTR activity. The ex vivo technique allows not only the confirmation/exclusion of an inconclusive clinical/genetic diagnostic situation (e.g. positive screening but inconclusive diagnosis) in CF but also drug testing on a patient-specific basis. CFTR functional testing, especially with ICM, enables us to test the therapy effect in CF patients and thus to individualise the therapy. In a Horizon 2020 project in cooperation with the University of Utrecht, Holland, intestinal biopsies of patients with very rare mutations are grown and preserved in a biobank. These intestinal organoids are used to test novel CFTR-modulators (and combinations) ex vivo, without having to administer CFTR modulator drugs to the patient beforehand.
Prevention of Food Allergies in Infants
Anna Zschocke, Monika Kofler, Federica Caferri
In a randomised, placebo-controlled trial led by Prof Kerstin Beyer from Charité Berlin, we will introduce small amounts of four highly allergenic foods into the diet of infants with eczema at the age of 4 – 8 months, in order to promote the development of oral tolerance. Through this approach, we hope to fill gaps in knowledge of allergy prevention. With the knowledge gained, we will contribute to the information required for updating current prevention guidelines.
Participation in European Patient Registries and Genotype and Phenotype Studies
Anna Zschocke, Monika Kofler, Federica Caferri
We are participating in a study led by Prof. Heymut Omran from the University of Münster in Germany, which is investigating the correlation between genotype and lung function as well as other parameters (e.g. BMI) of patients with genetically confirmed primary ciliary dyskinesia (PCD), in an international cohort on a longitudinal basis. PCD is a rare genetic disorder characterised by dysfunction of motile cilia, associated with recurrent infections of the airways, laterality defects (situs inversus totalis in about 50% of cases) and fertility problems. At present, mutations have been identified in > 45 genes associated with PCD and mucociliary clearance disorders, which probably represent two thirds of all human cases. Genetic studies are conducted in collaboration with the Institute of Human Genetics, Innsbruck. We also participate in the European registry for children's interstitial lung disease, led by Prof. Matthias Griese of Dr von Hauner Children's Hospital, University Hospital, Munich, Germany. The European management platform is a resource that supports care of and research into rare lung diseases in children. In addition to its function as a register with a biobank, data and samples can be stored free of charge and all cases are peer-reviewed by experts, tracked over time and can be compiled into cohorts.
Selected Publications
Cardiology
Michel M, Shabanah W, Körperich H, Kelter-Klöpping A, Entenmann A, Racolta A, Laser KT. Left ventricular mass estimation by real-time 3D echocardiography favourably competes with CMR in congenital left ventricular disease. Sci Rep. 2019;9:11888. doi. 10.10138/s41598-019-48375-y
Michel M, Dubowy KO, Zlamy M, Karall D, Adam MG, Entenmann A, Keller MA, Koch J, Odri Komazec I, Geiger R, Salvador C, Niederwanger C, Müller U, Scholl-Bürgi S, Laser KT. Targeted metabolomic analysis of serum phospholipid and acylcarnitine in the adult Fontan patient with a dominant left ventricle. Ther Adv Chronic Dis. 2020;11:2040622320916031. doi: 10.1177/2040622320916031
Michel M, Salvador C, Wiedemair V, Adam MG, Laser KT, Dubowy KO, Entenmann A, Karall D, Geiger R, Zlamy M, Scholl-Bürgi S. Method comparison of HPLC-ninhydrin-photometry and UHPLC-PITC-tandem mass spectrometry for serum amino acid analyses in patients with complex congenital heart disease and controls. Metabolomics. 2020;16(12):128. doi:10.1007/s11306-020-01741-8
Stock K, Nagrani R, Gande N, Bernar B, Staudt A, Willeit P, Geiger R, Knoflach M, Kiechl-Kohlendorfer U; Early Vascular Aging (EVA) Study Group. Birth Weight and Weight Changes from Infancy to Early Childhood as Predictors of Body Mass Index in Adolescence. J Pediatr. 2020 Jul;222:120-126.e3. doi: 10.1016/j.jpeds.2020.03.048. Epub 2020 May 15. PMID: 32423681.
Staudt A, Stock K, Gande N, Bernar B, Hochmayr C, Pechlaner R, Kiechl SJ, Geiger R, Griesmacher A, Anliker M, Kiechl S, Kiechl-Kohlendorfer U, Knoflach M; Early Vascular Ageing (EVA) Study Group. Impact of lifestyle and cardiovascular risk factors on early atherosclerosis in a large cohort of healthy adolescents: The Early Vascular Ageing (EVA)-Tyrol Study. Atherosclerosis. 2020 Jul;305:26-33. doi: 10.1016/j.atherosclerosis.2020.05.011. Epub 2020 Jun 13. PMID: 32603950.
Bernar B, Gande N, Stock KA, Staudt A, Pechlaner R, Geiger R, Griesmacher A, Kiechl S, Knoflach M, Kiechl-Kohlendorfer U; Early Vascular Aging (EVA) Study Group. The Tyrolean early vascular ageing-study (EVA-Tyrol): study protocol for a non-randomized controlled trial : Effect of a cardiovascular health promotion program in youth, a prospective cohort study. BMC Cardiovasc Disord. 2020 Feb 5;20(1):59. doi: 10.1186/s12872-020-01357-9. PMID: 32024473; PMCID: PMC7001281.
Halton J, Brandão LR, Luciani M, Bomgaars L, Chalmers E, Mitchell LG, Nurmeev I, Sharathkumar A, Svirin P, Gorbatikov K, Tartakovsky I, Simetzberger M, Huang F, Sun Z, Kreuzer J, Gropper S, Reilly P, Brueckmann M, Albisetti M; DIVERSITY Trial Investigators. Dabigatran etexilate for the treatment of acute venous thromboembolism in children (DIVERSITY): a randomised, controlled, open-label, phase 2b/3, non-inferiority trial. Lancet Haematol. 2021 Jan;8(1):e22-e33. doi: 10.1016/S2352-3026(20)30368-9. Epub 2020 Dec 5. PMID: 33290737 Clinical Trial.
Michel M, Dubowy KO, Entenmann A, Karall D, Adam MG, Zlamy M, Odri Komazec I, Geiger R, Niederwanger C, Salvador C, Müller U, Laser KT, Scholl-Bürgi S; Targeted metabolomic analysis of serum amino acids in the adult Fontan patient with a dominant left ventricle. Sci Rep. 2020 Jun 2;10(1):8930. doi: 10.1038/s41598-020-65852-x. PMID: 32488174
Cystic Fibrosis
Ellemunter, Helmut, Steinkamp, Gratiana. Lung clearance index to detect the efficacy of Aztreonam lysine inhalation in patients with cystic fibrosis and near normal spirometry - A single-centre feasibility study. PLoS One. 2019 Sep 9;14(9):e0221673
Munck, Anne, Kerem, Eitan, Ellemunter, Helmut, Campbell, Daniel, Wang, Linda T, Ahluwalia, Neil, Owend, Caroline A, Wainwright, Claire. Tezacaftor/ivacaftor in people with cystic fibrosis heterozygous for minimal function CFTR mutations. J Cyst Fibros 2020 Nov;19(6):962-968
Middleton PG, Mall MA, Dřevínek P, Lands LC, McKone EF, Polineni D, Ramsey BW, Taylor-Cousar JL, Tullis E, Vermeulen F, Marigowda G, McKee CM, Moskowitz SM, Nair N, Savage J, Simard C, Tian S, Waltz D, Xuan F, Rowe SM, Jain R; VX17-445-102 Study Group. Elexacaftor-Tezacaftor-Ivacaftor for Cystic Fibrosis with a Single Phe508del Allele. N Engl J Med. 2019 Nov 7;381(19):1809-1819
Pulmonology
Florian Götzinger 

, 

Begoña Santiago-García 

, 

Antoni Noguera-Julián 

, 

Miguel Lanaspa 

, 

Laura Lancella 

, 

Francesca I Calò Carducci Natalia Gabrovska 

, 

Svetlana Velizarova 

, 

Petra Prunk 

, 

Veronika Osterman 

, 

Uros Krivec 

, 

Andrea Lo Vecchio 

, 

Delane Shingadia 

, 

Antoni Soriano-Arandes 

, 

Susana Melendo 

, 

Marcello Lanari 

, 

Luca Pierantoni 

, 

Noémie Wagner 

, 

Arnaud G L'Huillier 

, 

Ulrich Heininger 

, 

Nicole Ritz

, 

Srini Bandi 

, 

Nina Krajcar 

, 

Srđan Roglić 

, 

Mar Santos 2

, 

Christelle Christiaens 

, 

Marine Creuven

, 

Danilo Buonsenso 

, 

Steven B Welch 

, 

Matthias Bogyi 

, 

Folke Brinkmann 

, 

Marc Tebruegge 

, 

ptbnet COVID-19 Study Group

;

COVID-19 in children and adolescents in Europe: a multinational, multicentre cohort study. Lancet Child Adolesc Health. 2020 Sep;4(9):653-661
Selection of Funding
Paediatric Cardiology
Metabolomic remodeling in Fontan patients: a Metabolomics study. Tiroler Wissenschaftsfoerderung; UNI-0404/2016; Principal investigator: Miriam Michel. (PI is actively holding the funding since 2018)
Stoffwechseluntersuchungen bei Patienten mit angeborenen Herz- und Gefaesserkrankungen. Medizinischer Forschungsfonds Tirol; grant no. 327; Principal investigator: Miriam Michel. (PI is actively holding the funding since 2020)
Maternal hyperoxygenation in the fetus with heart disease. Erwin-Schroedinger-fellowship-grant; J-4466; Principal investigator, fellow: Miriam Michel. (PI is actively holding the funding since 2020)
Cystic Fibrosis
Collaborations
Paediatric Cardiology
Centre of Congenital Heart Defects, Heart and Diabetes Centre Northrhine-Westphalia, Bad Oeynhausen, Ruhr-University Bochum, Germany (K.T. Laser, K.-O. Dubowy)
Division of Pediatric Cardiology, Labatt Family Heart Centre, The Hospital for Sick Children, Toronto, Canada (E. Jaeggi, M. Seed)
Biocrates Life Sciences AG, Innsbruck, Austria (S. Ledinger)
Sciomics GmbH, Neckargemuend, Germany (R. Schmidt)
Cystic Fibrosis
Jane Davies LCI Core Facility London, Imperial College, Royal Brompton & Harfield Imperial College London, United Kingdom
Elena K. Schneider-Futschik, NHMRC Peter Doherty Fellow,Cystic Fibrosis Pharmacology Laboratory, Department of Pharmacology & Therapeutics, School of Biomedical Sciences, University of Melbourne, Australia
Lutz Nährlich Gießen, Universitätsklinikum Giessen und Marburg GmbH, Funktionsbereich Päd. Pneumologie und Allergologie, Giessen, Germany
Kors van der Ent, University Medicial Center Utrecht, the Netherlands
Alexander Möller, Pädiatrie, pädiatrische Pneumologie, Schlafmedizin (SSSSC), Universitäts-Kinderspital Zürich – Eleonorenstiftung, Zürich, Schweiz
Merlijn Bonte, Harms Tiddens, Erasmus MC University Medical Centre Rotterdam, Lung Analysis Lab, Rotterdam, the Netherlands
Kate Hayes, European Cystic Fibrosis Society (ECFS) –CTN (Clinical Trial Network) The Wellcome Trust-Wolfson NI Clinical Research Facility, Queen's University Belfast, Northern Ireland
Paediatric Pulmonology and Allergology
Kirsten Beyer, Department Pediatric Pneumology, Immunology and Intensive Care, Charité – University Medicine, Berlin
Heymut Omran, University Hospital Münster, Germany
Matthias Griese, Dr. von Hauner Children's Hospital, Division of Pediatric Pneumology, Ludwig-Maximilians-University, University Hospital Munich, Germany
Devices & Services
Echocardiography laboratory with the opportunity for 3d-echocardiography and parametric imaging analysis (tissue Doppler imaging, 2d-strain imaging)
In house laboratory for ICM (intestinal short circuit current) and NPD (nasal potential difference) measurements.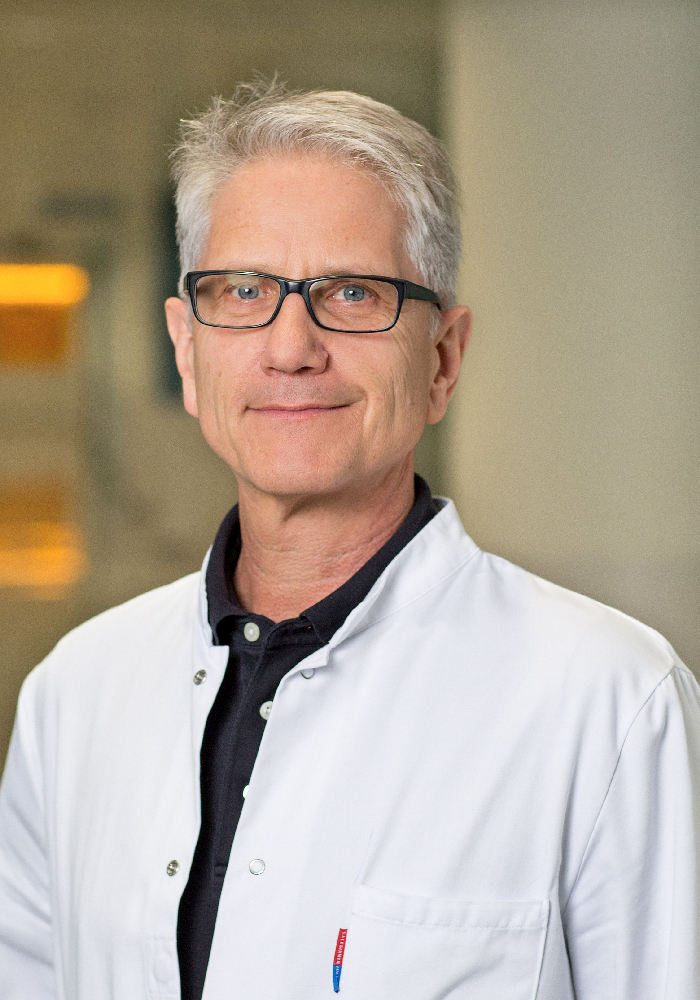 Univ.-Prof. Dr.med. Ralf Geiger
Director
Contact:
Anichstraße 35
6020 Innsbruck
Austria
E-mail: ralf.geiger@i-med.ac.at
Phone: +43 512 504 23481
Fax:       +43 512 504 23484
https://kinderzentrum.tirol-kliniken.at/page.cfm?vpath=paediatrie-iii